News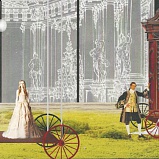 09.03.2017
''Dear Mozart! I so trust your word''
''In my opinion an unmarried man lives only half a life'', Wolfgang Amadeus Mozart wrote to his father Leopold in December 1781, informing him of his intention to marry. He added a handful of arguments to his desire to ''achieve a modicum of stability in life'': and from the foundation of everyday, domestic matters, such as the chance to put household expenses in order or to take care of the need for clothes and linen, one principle argument arose, "the voice of nature speaks as loud in me as in others''.
Four months later, in April 1782, Mozart's wedding to a young lady, Constanze Weber, took place. And four years later, on 1 May 1786, in the Burgtheater in Vienna, the opera
The Marriage of Figaro
, emerged into the light of the stage.
''There is a lot of Mozart himself in this opera, his character, his personal history'', claims the director of the performance Vyacheslav Starodubtsev. ''I am interested in every detail which preceded his marriage to Constanze. Though perhaps not directly, these details clearly overlap with the action of the plot and the characters' personalities. For example, the well-known scene of a forced marriage is a projection onto the stage of the occasion on which the composer, on the insistance of his fiancée's guardian, was forced to sign a document which obliged him either to marry Constanze Weber within three years, or to pay her a lifelong indemnity of three hundred florins annually. Fortunately, in a letter to his father, Mozart also recounted details of how his intended had demanded the document from her mother and torn it to pieces with the words, "Dear Mozart! I so trust your word that I need no written assurance from you".
The Marriage of Figaro
is often understood as a keen social commentary; the problem of social inequality, the revolt of the servant against his master, the last convulsions of the feudal world. We want to create a performance which is first and foremost about love. About love, and about marriage, which gives love form and serves to some extent as a test of its resilience. The principle foundation of our performance is the relationship of two couples: for Figaro and Susanna their marriage is the start of a journey, as they see it, towards a serene, happy future, but for Almaviva and the Countess, it is something of the past, for them, love has since entered a period of tribulation.''