News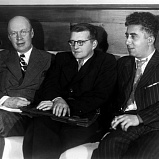 27.02.2019
Chamber music by Soviet composers
The cycle of concerts in the dress circle foyer will continue on 3 March with Chamber Music by Soviet Composers. Guests will enjoy performances of the
Sonata for Two Violins
by Sergei Prokofiev, pieces for the harp by Aram Khachaturian, the
Trio for Violin
,
Cello, and Piano
by Arno Babadjanian and
Piano Trio No. 1 in C minor
by Dmitri Shostakovich.
Soviet music reflected the ethnic diversity of the state and its vast cultural heritage. In it, one can hear the rhythms of the new era, with its desire for brevity and simplicity. The opulence of magnificent balls, exciting evenings at the theatre, and aristocratic salons are hinted at. We can observe melodies that slipped through the gaps in the iron curtain and were modified to fit the culture of the country.
A particular feature of the concert is that it focuses on works by composers who knew and influenced each other.
It is also worth remembering that the names of Prokofiev, Shostakovich, and Khachaturian appeared in the Resolution issued by the Politburo of the Central Committee of the Communist Party of the Soviet Union (then the All-Union Communist Party) on the opera The Great Friendship. Published in 1948 in Pravda, the resolution contained not only criticism of that particular work, but also an accusation, levelled at all three composers, of formalism and of being 'anti-art'. But it was not only periods of disgrace that united the composers. Shostakovich, for example, had great respect for the music of Prokofiev and Khachaturian, and believed that it was difficult to overestimate the contribution of both composers to contemporary art. Khachaturian, in turn, took Arno Babadjanian under his wing, having spotted this young talent when he was barely out of nursery school.
The concert's instrumental programme will feature an exquisite cameo in the form of vocal compositions performed by Tatiana Ryaguzova. Tatiana will sing the romances of Georgy Sviridov and Valery Gavrilin, and Virinea's aria from the opera of the same name by Sergei Slonimsky.