News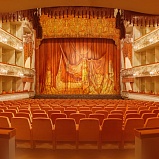 04.06.2018
Be vigilant when purchasing tickets
Dear theatregoers! The Mikhailovsky Theatre thanks you for your interest in our productions. We recommend that you purchase tickets only at the Mikhailovsky Theatre box office, on the theatre's official website (
www.mikhailovsky.ru
) or from the theatre's official sales partners (for a full list see
www.mikhailovsky.ru/en/buy_now/points-of-sale/
).
Please bear in mind that the theatre's popularity has led to a number of untrustworthy independent websites which offer tickets for our productions but are not our partners.
The Mikhailovsky Theatre cautions that mikhailovsky.com.ru and several other sites that have addresses similar to our official website, as well as russianbroadway.com, biletoved.com, bileti-v-teatr.ru, theatre-spb.com and biletprivet.ru, are run by third parties and are not authorized to sell tickets. The theatre bears no responsibility for tickets purchased from third parties. We also request that you do not purchase tickets on the street, which encourages touts and profiteers.
To avoid risks in purchasing tickets (including invalid or overpriced tickets) please bear in mind that all theatre tickets, including e-tickets, must contain the following information: name, legal information, TIN, address of the theatre, number and series, name of the event, price, and QR code or barcode. And, of course, tickets (including e-tickets) must state the price — tickets without price are invalid. Tickets that do not contain all the above information are invalid and anyone holding such a ticket may be denied access to the auditorium.
When buying tickets, including e-tickets, from theatre partners or from third parties, you should receive a separate receipt for the commission. However, the cost of the ticket is not subject to change and will be the same regardless of where it is purchased. Bear in mind that at the Mikhailovsky Theatre there is no difference in ticket prices for Russian citizens and foreign visitors.