News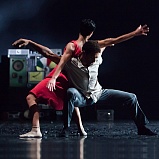 26.10.2018
Aterballetto Leaders of Contemporary Dance
On 17 November, renowned Italian dance company Aterballetto will be performing at the Mikhailovsky Theatre as part of the cultural programme of the 7th St. Petersburg International Cultural Forum. In Russia, Aterballetto are already well known: after all, this is not the Italian ensemble's first tour. Aterballetto first came to our city back in 1984, and in 2003 the Italians treated us to a demonstration of their art on our own stage.
Aterballetto has its home in the city of Reggio Emilia, one of the centres of the Emilia-Romagna region. The troupe was established in 1977 within the city's opera house, but two years later became independent. Since then, it has been forging its own path as the first permanent dance ensemble to operate outside the confines of opera houses and ballet theatres.
Aterballetto has an extremely broad creative range, and is considered Italy's best contemporary dance ensemble. The ensemble has worked with world-renowned choreographers: it was led for ten years by Mauro Bigonzetti, who then went on to work with the ensemble as its head choreographer for a further five years. Today, his name is primarily associated with the latest achievements in Italian ballet. Aterballetto has worked with choreographers such as William Forsythe, Jiří Kylián, Ohad Naharin, Johan Inger, and Hofesh Shechter.
The programme for the Mikhailovsky Theatre includes a composition created from two pieces by Johan Inger, the Swede who trained as a choreographer before becoming an acknowledged master under the guidance of Jiří Kylián at the Nederlands Dans Theater, along with a work by Hofesh Shechter, an Israeli who formed his own company in the UK. In the space of just one evening, audiences will enjoy an introduction to the contemporary dance of today: an art form which overcomes national borders as it speaks in a universal language of fluidity and emotion.