News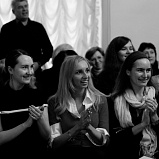 27.12.2013
"An Evening With..." events to continue into the new year
In 2014, the Mikhailovsky Theatre will continue to present its popular series of "An Evening With..." events. These informal presentations, held two or three times a month in the Fireplace Hall in the Dress Circle, offer theatregoers a first-hand opportunity to hear professionals discuss their insights in a non-academic, laid-back atmosphere. The stories behind various opera and ballet productions; contemporary perceptions of the music scene and their impact on the social and political ambiance; the lives of prominent artists; bold theatrical experiments, triumphs, and fiascos; interesting trivia about theatre life — Alexei Lepork, Olga Rozanova, and Konstantin Uchitel expertly illuminate these engrossing topics. They gladly share their knowledge with our audience, helping seasoned theatregoers to see familiar plays in a new light and gain a deeper understanding of the unique aspects of première productions. And to those who are relatively new to opera and ballet, the talks offer a chance to expand their horizons and maybe even "catch the musical theatre bug".
Alexei Lepork: resident scholar at the Hermitage Museum; art historian and ballet aficionado. Alexei is the epitome of a St. Petersburg intellectual. His colleagues know him as an excellent polemicist. His lectures often turn into conversations with the audience. He is a master of posing unexpected questions and has a knack for presenting familiar material from an unexpected angle.
Olga Rozanova: Ph.D. in art history, professor at the St. Petersburg Conservatory, ballet critic and historian. Olga possesses a keen sense of historical perspective. In her interpretations, she is able to imbue the events of decades past with relevance and immediacy and, conversely, draw thought-provoking comparisons between current premières and the productions of Marius Petipa or Michel Fokine.
Konstantin Uchitel: Ph.D. in art history, associate professor at the St. Petersburg State Theatre Arts Academy, theatre critic, musical theatre connoisseur, author of books and articles about the history of the Mikhailovsky Theatre. Konstantin delights the audience with his one-of-a-kind conversational style, erudition, and sense of humour. With his superb command of a huge arsenal of facts and names, he infects those he is talking to with a sense of personal involvement in the rich life of theatre.