News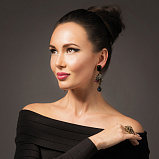 03.11.2022
Aida Garifullina gala concert
"She is the reigning beauty of European opera. Her voice is magnificent." At once creative and masterful, sensual and elegant, fragile and incandescent, Aida Garifullina has both audiences and critics under her spell.
This global opera star dazzles audiences at Europe's grandest concert halls and theatres, captivating them with her unique voice, outstanding vocals, and the genuine sincerity of her performances. And now, on 29 November, Aida Garifullina will give a gala concert performance on the Mikhailovsky Theatre stage. This is a rare opportunity for opera fans in St. Petersburg to appreciate Garifullina's bewitching soprano, not to mention the highlight of the social calendar as we see out the autumn. It is certainly not to be missed!
Guests of the Mikhailovsky Theatre are in for a very special evening. The concert programme is being kept under wraps, to be announced at a later date. Anticipating which of her favourite arias the established opera diva of our time will choose to perform this 29 November is a pleasure akin to experiencing a foretaste of her dazzling artistry itself. Garifullina's repertoire includes a whole gallery of stunning female roles in operas by Verdi, Puccini, Rossini, Donizetti, Mozart, Rimsky-Korsakov, and Prokofiev. At the Vienna Opera alone, she has appeared as Musetta (La Bohème), Susanna (The Marriage of Figaro), Elvira (L'italiana in Algeri), Adina (L'elisir d'amore), Zerlina (Don Giovanni), Norina (Don Pasquale), Gilda (Rigoletto), and the eponymous Snow Maiden.
This grand gala concert will be accompanied by the Mikhailovsky Symphony Orchestra conducted by Timur Zangiev, principal guest conductor of the Mikhailovsky Theatre and one of the standout young maestros on the world stage.