News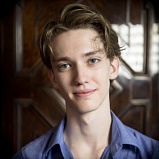 14.06.2016
A pleasure to meet you, Your Highness
Our ballet company welcomes its new soloist, Julian MacKay. We find out first-hand how the eighteen-year-old dancer from Montana came to join the Mikhailovsky Theatre.
"I was born in America, in the state of Montana. It's beautiful there, but we have more cows than people. My parents weren't ballet people. My father is flat-footed, a computer programmer. My mother was a designer. Luckily I didn't inherit all my father's genes", Julian explains. "The first in our family to take up ballet was my eldest sister, with my other sister following in her footsteps. My younger brother and I took it up after them. So the four of us found ourselves in ballet, and we all had Russian teachers. My sisters studied in a Russian ballet school in Washington, and later in Monaco. The Russian ballet instructor Marika Besobrasova, who once taught Rudolf Nureyev, was a teacher there.
"In Montana, I studied the Vaganova method under Christine Austin. She helped me to compete in and win the Youth America Grand Prix, a ballet competition for young dancers. When I won, the Moscow State Academy of Choreography took notice. They invited me to come for a six-week course, and I stayed six years. The academic standard in Russia is very high. Before my arrival I didn't even know, for example, that there was a difference between folk dancing in general and Russian folk dances. It turns out that they are completely different. I'm still in touch with my first teacher. She's very proud of my success and wants to visit me in St. Petersburg. I'm sure it will happen someday.
"After six years of study in Moscow, I became the first American to receive a full diploma. It seems most people come for a much shorter time, just so that they can say they've studied here. But it's a completely different experience when you stay here so long. While studying Russian ballet, I also took lessons in Russian, and the other students at the academy adopted me as one of their own.
"Last year, while still a student, I won five consecutive international competitions. One was the Prix de Lausanne. Winners have their pick from a list of ballet companies they can join. After winning the competition, I spent some time in London on a residency. My tutor, Kevin O'Hare, said I should wait before dancing a solo part. But I felt that I was already capable of handling it, and sought out solo dancing roles, looking to become a soloist. It was then that I auditioned in Budapest, where Mikhail Messerer was giving a lesson. I was offered a contract as a soloist in Budapest, but I asked Mikhail if there was a place for me in his company, and I ended up with a better offer. And here I am. Working with Mikhail is a great honour for me. He's an extraordinary man with incredible experience. I was made to feel very welcome in the theatre. I was surprised to find how kind everybody was. Newcomers aren't always accepted immediately, but this company is very friendly.
"At the competition I won in Lausanne, I danced Albrecht from Giselle, ou Les Wilis. I'm very fond of that ballet, but I also enjoy taking on more technically challenging roles. I want the role to test my nerve. Don Quixote interests me greatly. It's a ballet where you have to focus on the role's transformation. Then there's Swan Lake, a classic princely role, but one which is also complex, where you have to hold your position, and the dancing itself is not easy. I do have the advantage of looking like a prince. Dancing the title roles in Don Quixote or Le Corsaire, however, demands that you change your image completely.
"My favourite part of the performance is the last five seconds before going on stage. Everything suddenly becomes very calm, and you understand that all you can do is relax, and give the audience everything you have. I'm not afraid of Russian audiences, and I was well received in Moscow. There is a very reverential attitude towards Russian ballet traditions here... Well, I was trained in a Moscow school, so my soul is here in Russia! I don't know what my future has in store for me, but I'm very happy to be in Russia. I love this country for its culture, first and foremost. Not every place has managed to preserve the traditions of its people so well."
Julian MacKay will make his debut at the Mikhailovsky Theatre in a performance of Le Corsaire on 9 June.