News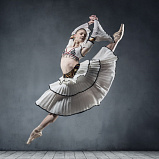 03.03.2023
A new take on Le Corsaire
On 22 and 23 March, the Mikhailovsky Theatre will present a new version of Le Corsaire in memory of the outstanding dancer and choreographer Nikita Dolgushin (1938–2012). Dolgushin would have celebrated his 85th birthday this year, and the theatre has returned to a production the ballet master was working on in 2009.
"Le Corsaire has been performed here for many years and its glory has largely faded," Dolgushin said at the time. "We need to take a fresh look at the old production: I don't mean the visual imagery so much, I'm talking about the choreography, pantomime, and composition. To me, this is like new lighting for an old picture: light it up in a new way and it comes to life, it lives and breathes and becomes even more interesting."
In 2023, Vladimir Kekhman has decided to remedy a historical injustice. "I want to rectify a mistake I made that very few people know about," he says. "Nearly 14 years ago, on the advice of Alla Osipenko, I turned down Nikita's version, which was almost ready. This year, the ballet that audiences never got to see in 2009 will return to our stage. Together with our Principal Stage Designer, Vyacheslav Okunev, and young choreographer and rising star Alexander Omar, we will try to reconstruct the brilliant classical ballet that Nikita Dolgushin envisioned. Audiences can expect a thrilling new storyline, virtuoso choreography, and colourful characters. I'm certain that it will appeal to adults and children alike."
The new 2023 version of Le Corsaire will retain Valery Levental's wonderful scenery, complemented by video projections by Vadim Dulenko, based on designs by Vyacheslav Okunev.
The lead roles will be performed by principal soloists of the Mikhailovsky Theatre: Angelina Vorontsova, Anastasia Soboleva, Anastasia Smirnova, Victor Lebedev, Ernest Latypov, and Nikita Tchetverikov.