News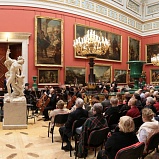 12.07.2018
A Musical Soirée with Rossini
The Mikhailovsky Theatre at the Hermitage series is concluding on a high note. The final concert,
A Musical Soirée with Rossini
, will take place on 21 July in the Large Italian Skylight Room of the State Hermitage Museum.
"We opened our opera season in September with Rossini, so it seems symbolically fitting to end it with an equally dazzling performance of his work", said concertmaster Natalia Dudik, who created the programme.
The first part of the evening will be devoted to Rossini's suite
Soirées musicale
s, a collection of songs comprising eight solo pieces and four duets. "This is the epitome of European Romanticism, salon music with intricate piano passages", Dudik explained. "In the 1980s, the pieces were adapted for the orchestra by Alexander Radvilovich, a Leningrad composer."
In the late 1980s, musicians from the Mikhailovsky Theatre, then called MALEGOT, gave a similar performance. They were accompanied by the State Hermitage Orchestra, known as the St. Petersburg Camerata. Now, almost 30 years have passed, and Rossini's music will be heard again, performed this time by a new generation of artists.
In the second part of the concert, the audience will enjoy Rossini's
Sonata no. 3 for Strings in C major
, led by the Mikhailovsky Theatre Orchestra. In keeping with the light-hearted mood of the first half, the evening will continue with excerpts from the operas
Semiramide
and
La Cenerentola
. The wry humour of these pieces will draw a smile from even the most serious of listeners.
Opera soloists Maria Litke, Natalia Mironova, Svetlana Monchak, Yury Monchak, Boris Pinkhasovich, and Boris Stepanov will perform in the concert.