News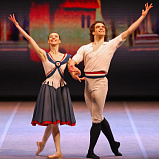 23.06.2022
A classic and an exclusive
The ballet
The Flames of Paris
at the Mikhailovsky Theatre is both a classic and an exclusive.
The ambitious production, which features 250 costumes and a gorgeous set — as well as over a hundred ballet dancers, a choir, and supernumeraries — stuns viewers with its spectacle, the spontaneous energy of its dances, and its vivid characters. The stage plays host to shootouts, sword fights, and revolutionary songs, but what remains central is the production's classical and character dance, which captivates both the stage and the auditorium.
The legendary Soviet ballet about the French Revolution was first staged in 1932, and immediately became a sensation of Soviet theatre. Decades later, the expressive music of Boris Asafiev, the impressive choreography of Vasily Vainonen, and the set design and costumes of talented artist Vladimir Dmitriev are gaining a new lease of life.
The heroism and romantic revolutionary fervour of the famous production were restored especially for the Mikhailovsky Theatre by Mikhail Messerer, known for his triumphant restagings of twentieth-century Russian ballets. The Theatre's lead set designer, Vyacheslav Okunev, did some incredible work, drawing on the original visual concept of the 1932 production.
On 1 July, audiences watching T
he Flames of Paris
will be able to see their favourite dancers from the Mikhailovsky ballet company as well as guest stars. This time, the Bolshoi Theatre's leading soloists Kristina Kretova and Igor Tsvirko will compete to demonstrate their dancing and acting mastery. Maestro Pavel Sorokin will be on the conductor's podium.