News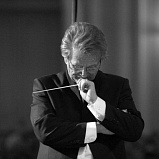 28.05.2019
22 June. Messa da Requiem
On 22 June, Giuseppe Verdi's
Requiem
will be performed at the Mikhailovsky Theatre. The masterpiece, called "music that penetrates to the heart and confounds the soul", will be performed on a day of mourning, the anniversary of the start of the Great Patriotic War. The audience will experience the
Requiem
in Russian, accompanied by an artistic sequence of video footage and war photography, as a tribute to the victims of the Siege of Leningrad.
Vladimir Fedoseyev, an outstanding musician and People's Artist of the USSR, will be conducting the Mikhailovsky Theatre's symphony orchestra and choir. He himself experienced the horrors of the siege as a child. Verdi's work was chosen specifically: the terrible images of Leningrad under siege resonate with the powerful expressiveness of the music. The accompanying video will help to create a dialogue between eras that will endow these momentous events with a sense of timelessness.
Sergey Novikov, who created the concept for the performance, calls the Leningraders' feat "an example of self-sacrifice, spiritual strength, and national unity unparalleled in history". According to Novikov, it was "a feat accomplished by the civilian population, workers who never stopped working to meet the needs of the front lines, even for a day, and who did so in unbearable circumstances, unbelievable even for wartime". Novikov personally translated the canonical Latin text of the
Requiem
so that its contents would be accessible to a broad audience, enabling listeners to fully comprehend the depth, power, and universal nature of this great work.