News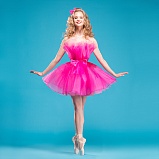 07.09.2020
188th season opens with premiere of Coppélia
On 2 October, the Mikhailovsky Theatre will open its 188th season with the premiere of
Coppélia
.
Léo Delibes'
Coppélia
is a rare example of a comic ballet. The libretto is based on E. T. A. Hoffmann's novella
Der Sandmann
. However, it reinvents Hoffmann's frightening, mystical tale as an upbeat comedy: a young dreamer comes close to rejecting his beautiful bride due to his infatuation with a mysterious blue-eyed beauty who turns out to be a mechanical doll.
The ballet is rooted in pure classical dance, featuring technically difficult pointe work from the ballerinas, coupled with virtuoso dancing from the men. It is directed by celebrated custodian of the Russian ballet tradition Mikhail Messerer. In creating his version of
Coppélia
for the Mikhailovsky Theatre, Messerer used elements of productions by his great classical predecessors — Arthur Saint-Léon, Marius Petipa, and Alexander Gorsky — while his own sense of style, imagination, and knowledge of tradition helped him create a show that functions as a cohesive whole. Costume and set design are by People's Artist of Russia Vyacheslav Okunev. He masterfully renders the atmosphere of a charming small town in the Eastern European region of Galicia, where the orderly flow of domestic life and mystery exist side-by-side, and the dolls inside master watch- and doll-maker Dr. Coppélius' study remind one of rare antiques.
"I am certain that
Coppélia
will occupy a special place in our family-friendly repertoire," says Mikhailovsky Theatre Artistic Director Vladimir Kekhman. "This first post-pandemic production reminded me of when my relationship with the audience first began 13 years ago, with the ballet
Cipollino
. We have put together
Coppélia
for our favourite audience members. This witty and incredibly beautiful ballet fairytale will serve the primary goal of theatre: to create a unique atmosphere of wonder and celebration."