News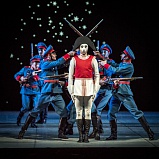 15.02.2017
100th performance of The Nutcracker to herald spring
On the evening of 18 February, Nacho Duato's production of Pyotr Tchaikovsky's
The Nutcracker
will be performed on our stage for the 100th time. Since it first premiered in December 2013, the production has notched up a record number of performances, every one of which has been to a full house.
The Nutcracker
was Duato's last work in St. Petersburg — the choreographer's "heartfelt farewell to Russia." As the newspaper Vedomosti wrote following the premiere, Duato, together with French stage designer Jérôme Kaplan, succeeded in creating "a homage to the city that has astounded him with its grandeur, its artists and its audiences." The creators of the ballet chose to place the action in pre-revolutionary Russia, the Silver Age of Russian culture. Duato has also taken his version of the ballet to Milan and Berlin, allowing audiences at La Scala and the Staatsballett to similarly get a sense of St. Petersburg's inimitable spirit.
The fact that the ballet became an audience favourite, and garnered acclaim across Europe, was entirely understandable, and indeed, foreseeable. After the opening night in St. Petersburg, critics observed that "Duato is not merely trifling with classical ballet, but is making a serious attempt to adhere to its style and strict canons." They marvelled at the display of "effortless movement" and "outstanding creative resourcefulness," and expressed amazement at the choreographer's ability to achieve "genuine inspiration at the most unexpected moments — the ballet's purely classical compositions, namely the 'Waltz of the Snowflakes', the 'Waltz of the Flowers', and the 'Adagio of Masha and the Prince'" (
Vedomosti
).
The Nutcracker
is traditionally considered the quintessential winter ballet, and the 100th performance of this production will have an added symbolic meaning, signalling the end of winter and the easing of the cold. Spring is coming, and with it a host of new theatrical events.