Media about us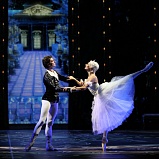 11.10.2017
Mikhailovsky Ballet – Cinderella – St. Petersburg
Although Sergei Prokofiev's
Cinderella
must rank (alongside his
Romeo and Juliet
) amongst the most melodious and fanciful of all 20th Century ballet scores, I must confess that the ballet itself has never counted amongst my favourites. Many productions have attempted to win me over with memorable creativity in choreography by Ashton (of course), Ratmansky, Wheeldon, Hampson, Bintley, Corder, Bourne (to be welcomed back, this winter) and Nixon (to name but a few). I've even seen a
Cinderella
danced at the end of Cromer Pier by Vienna Festival Ballet (choreography by Peter Mallek) with the added charm of an angry North Sea thrashing around the theatre!
Although each production of
Cinderella
has brought something new or innovative to this timeless fairy tale, they all miss out in some other aspect: perhaps, the balance between pantomime comedy and evil in the stepmother (and, even the stepsisters) is sometimes skewed too far one way, or the other; or, the descriptive advantages bestowed in Prokofiev's music are not appropriately captured in the movement. In particular, most productions fail the child-friendly test. How many times have I sat in close proximity to frustrated parents and irritable children who have come to see something akin to Disney and not found the magic to match those aspirations?
It seems appropriate that I've travelled to Russia to find a
Cinderella
interpreter of movement and spectacle to match up to the genius of Prokofiev's music. Or, to be more precise, I have found two such heroes. The first, it must be said, was the very first: Rostislav Zakharov choreographed the original ballet in which the legendary Galina Ulanova performed the title role and for which Prokofiev's score was first employed. The composer started
Cinderella
, in 1940, and continued to work on it, alongside his opera, describing Tolstoy's War and Peace, through the difficult war years; eventually bringing it to premiere on 21st November 1945, as a three-act ballet, at the Bolshoi Theatre, in Moscow.
The integration of ballet theatre and the fifty musical numbers that comprise Prokofiev's score was obviously a seamless join, back in 1945. One common fault across subsequent productions — beginning with Ashton's 1948 choreography for Margot Fonteyn and Sadler's Wells Ballet — has been to rush the Prince's hunt for the foot that fits the slipper. It sometimes feels that he has just nipped out of the Palace's back door and walked straight into Cinderella's parlour. Whereas, Prokofiev gives five musical numbers (a tenth of the ballet) to the Prince's "galops"; representing his travels around the world, to the Orient and back, to find that mysterious girl. Zakharov choreographed exotic scenes to match that music, creating a wonderful element of the ballet that has become so often rushed or largely omitted.
The Zakharov choreography was performed, regularly, for more than 20 years, finally petering out in the early 70s. Step forward, my second hero in the person of Mikhail Messerer, officially the Ballet Master in Chief at the beautiful gem that is the Mikhailovsky Theatre, its burnt-yellow façade sitting proudly on one side of St Petersburg's Arts Square.
Messerer is also the master-reviver of out-of-stock ballets from the Soviet era. Having previously worked his magic with Vakhtang Chabukiani's
Laurencia
(dating from 1939) and then Vasily Vainonen's
The Flames of Paris
(1932), he has now turned his wand to recreate Zakharov's original
Cinderella
. Messerer has the advantage of being steeped in the knowledge of a great ballet dynasty and also the personal experience of having experienced performances of Zakharov's
Cinderella
as a member of the Bolshoi ensemble.
Before getting too carried away with history, let me say that the real success of this
Cinderella
is as much to do with its fresh new look, as it is with the authenticity of an historic revival. Messerer may have brought Zakharov's steps back to life but he has packaged them in an altogether modern production. Digital technology played a part in Messerer's previous ballet reincarnations but, here, it is a dominant theme. His special trick has been to dress up this recreation of a 70-year-old ballet, complete with all its Soviet-style vagaries of a
Swan Lake
pastiche, in a thoroughly modern production for the digital age.
Such technology can often be either cheesy or childish but the 3D realism of the video content by Show Consulting Studio and Gleb Filshtinsky was so superb that it conned the audience into believing that the digital imagery was physically real. A clock that appears to be painted onto the frontcloth suddenly starts to move and tick; at one point on his journey to find Cinderella, the Prince (Victor Lebedev) appears to jeté through a graphic archway; and the opening montage on a full-screen, filling the proscenium, imitating a long camera tracking shot, through a clutch of trees and out into the garden of Cinderella's home, could have come from an Orson Welles film!
Messerer's team has recreated Zakharov's global quest for the Prince to find Cinderella (Anastasia Soboleva), with a neat reference in the digital content to the imagery of the opening credits from
Game of Thrones
and, in doing so, they have expanded the narrative end game to create three evenly-paced, evenly-timed, equally-satisfying acts, which address perhaps the most common fault of all productions of
Cinderella
(first act, often too long; final act, usually too short).
The visual spectacle and holistic narrative in this new-old, Messerer-Zakharov production was well-matched by a peerless performance by the Mikhailovsky orchestra, conducted by Pavel Sorokin; lovingly caressing Prokofiev's jubilant score. And, there was great dancing throughout the cast. My first encounter with Lebedev and Soboleva was two years' ago, in Ashton's
La Fille mal gardée
, in this same theatre. They were two young dancers in their very early 20s, not long out of school; talented, for sure, but coltish and demure with much still to achieve in their maturation as dancers. Now, they are both the real deal, having gained considerable maturity, under Messerer's tutelage, since I last saw them. Lebedev has become an exciting, virile dancer, spinning ferociously and jumping high with notable ballon, but also a handsome
danseur noble
. Soboleva brings both vulnerability and authority to her Cinderella, a charismatic characterisation that is etched onto a very fine ballerina's skills set. They are partners in life, as well as on stage, which adds palpable realism to their romance; and their radiant pas de deux completely absorbed my attention.
Amongst the supporting dancers, I picked out a very Russian performance, as the Winter Fairy, from a New Zealander! Alicia Read came to the Mikhailovsky by way of David Makhateli's
Grand Auditions
, from where she was spotted and signed-up by Messerer, in 2016. Three dancers bearing the name of Ekaterina also impressed: Borchenko as a radiant, elegant Fairy (Godmother); and Odarenko and Belovodskaya as the more mad-than-bad stepsisters (certainly, not ugly, nor in travesty). Ksenia Rusina was a very good, truly bad, stepmother.
In true Soviet style, this
Cinderella
contained the unusual, athletic antics of a court jester (Roman Volkov) and a trio of national dances, from the Orient, from Spain (of course) and a mazurka that one supposes hailed from Hungary. These eccentricities made it seem, at times, as if renegades from
Swan Lake
or
The Sleeping Beauty
had found their way into the wrong ballet.
However, nothing detracted from an all-around triumph for this genius at making ballet reconstructions that are fit for the modern age. The phrase "new-old" is often used to describe such recreations but no-one achieves such fresh originality out of old material in quite the same way as Mikhail Messerer.
Star rating (out of 5)
Cinderella ★★★★★
Graham Watts,
DanceTabs