Media about us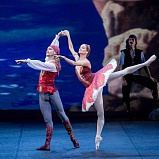 16.09.2015
Le Corsaire is a winner
The Mikhailovsky's Le Corsaire is a winner. Last week the theatre unveiled their new production of Le Corsaire, an orientalist tale of pirates and slave girls, set to music by Ludwig Minkus, Riccardo Drigo and others. Compared to other current versions of the ballet, like those of the Bolshoi and English National Ballet, both of which feature spectacular designs, this is a low-key offering. The scenery is back-projected, not wholly successfully, and the costumes favour unadventurous pastel shades. The dancing, though, is another story. The ballet, while the purest hokum plotwise, is the setting for some of the most sophisticated choreography of the 19th-century master Marius Petipa, and the Mikhailovsky dancers address it with joyous precision.
At the premiere the lead roles of Conrad and Medora were taken by Leonid Sarafanov and Ekaterina Borchenko. Sarafanov has a fine time as the moustache-twirling pirate, and the elegant finish of his dancing — springy leaps, landings of cat-like softness — is nicely counterpointed by the darker smoulder of Andrey Kasyanenko's villainous Birbanto. Borchenko, initially nervous, blossoms into a lovely Medora, all serene balances and billowy grandeur. Her performance contrasts attractively with that of Anastasia Soboleva, who brings a lithe delicacy to the role of the odalisque Gulnare.
Act 3 of Le Corsaire is a fantasia known as the Jardin Animé, in which the female corps de ballet takes the stage in unfurling, interleaving waves. It's one of the great classical set pieces, and Soboleva, the company's brightest young star, leads them through it with flirtatious panache. Soboleva is not faultless, as a couple of snatched finishes testifies, but her slight, steel-cored frame embodies the art of ballet with a rare refinement and focus.
Luke Jennings, The Guardian