Media about us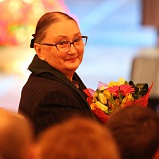 14.04.2014
"In America, they don't put in the time with individual dancers the way we do, it's more about the company as a whole"
Tatiana Legat, Honoured Artist of Russia and répétiteur at the Mikhailovsky Theatre, is celebrating her birthday. Representing a legendary dynasty in the world of ballet, she embodies the unbroken connection between modern theatre and the traditions of the imperial stage. Tatiana gave an interview to Izvestia.
"Was there ever a possibility that you might end up in a profession other than ballet? Or was everything predetermined by the very fact of your birth into a family with such a legacy?"
"My grandmother used to tell me (I don't remember my mother; she died during the Siege of Leningrad) that as a young child I was already dancing and singing all the time, even during the siege, when I was just in kindergarten. My grandmother enrolled me in a ballet school in 1943. When Agrippina Vaganova [the director of the Leningrad Choreographic School — ed.] returned from Perm, where the school had been evacuated, I remember how she cried and hugged my grandmother and me. She had never dreamed that she would see us alive.
My life couldn't have turned out any other way. I have spent my entire life in the theatre: 30 years at the Mariinsky Theatre; 10 years in Moscow at the Stanislavsky and Nemirovich-Danchenko Theatre; then, almost 20 years in Boston — immersed in ballet the whole time, without a single break. Then I suddenly got a call from Mikhail Messerer [Ballet Master in Chief at the Mikhailovsky Theatre — ed.]. I didn't know him particularly well, just from a distance, but I came rushing back, and a month later I was back for good. I feel very at home in St. Petersburg, at the Mikhailovsky Theatre."
"Tell us about the Legat ballet dynasty. What is it like representing a family like that?"
"I realize now that I ought to have asked my grandmother more about it when I was young. There's a lot that we will never know. My mother, Maria, died when she was very young. My grandfather was Nikolai Legat. My grandmother — her maiden name was Chumakova — was also a dancer. It so happens that we are currently rehearsing La Bayadère, in which she danced the first of the three variations as one of the Shades Trio alongside Vaganova and Trefilova. I know that my grandfather's grandmother was a Frenchwoman called Constance Lidet, who danced in Paris at the Grand Opera.
And my great-great-grandfather was a Swede. How did they meet? I think they danced together, my great-great-grandparents. My great-grandfather, Gustav Legat, graduated from a theatre school here in St. Petersburg, after which he was sent with his wife, Maria Granken, to Moscow to set up the Bolshoi Theatre and the Moscow School of Ballet. In those days, you were educated in St. Petersburg and then sent elsewhere, not the other way around. Although I am convinced that to this day, ours is a unique school of ballet, with excellent instructors."
"So Gustav Legat was the founder of a Russian ballet dynasty?"
"Yes. My great-grandparents had 13 children. My grandfather Nikolai, his brothers Sergei and Ivan, his sisters Vera (later to become Countess Shuvalova) and Evgenia all worked at the Mariinsky Theatre. I've seen costumes there labelled Legat 1, Legat 2, Legat 4. I even came across some gloves. My grandfather took a lot of the articles with him to London. He left Russia in 1922, initially joining Diaghilev's Ballets Russes, teaching alongside Enrico Cecchetti. But he found it hard working with such a diverse company, and he moved to London. There he set up his own studio, which later became a school, and taught ballet greats like Ninette de Valois, Alicia Markova, and Anton Dolin, who subsequently went on to open their own schools. He died in London and was buried there. I've visited his grave."
"When did you realize that you wanted and were able to teach?"
"It was all my teachers' doing. Perhaps because I was Nikolai Legat's granddaughter, they doted over me. I was at a boarding school — almost like an orphanage — and Lidia Tyuntina [a teacher at the Leningrad Choreographic School — ed.] took me under her wing. She was in charge of placing young children in productions. She got me into everything, and I danced my heart out. She even sewed the frocks for my exam. We went around in brown flannel dresses. We didn't go outside in the winter because we had nothing warm to wear on our feet. The times were hard, but they were good time all the same. Our teachers were, I suppose, fanatical about their work and taught us discipline and love for what we did, which we in turn seek to pass on to the next generation.
"You taught at the Boston Ballet for a long time. What are the respective strengths of Russian and American dancers?"
"If you go to a competition and see good hands, the dancer is likely from a Russian school or has a Russian instructor. The ballet education in America is not that great. They are very particular about the steps and precision, but not about style. They don't put in the time to achieve a particular form, like we do; it's more about the company as a whole. But the Boston facility is magnificent. Bruce Marks, to give him his due, created all the right conditions.
I started working there when Sergeyev and Dudinskaya brought over Swan Lake, Sleeping Beauty, Don Quixote, and La Bayadère. Back then, I was busy with both the school and the theatre at the same time and practically never left the building. I don't leave the building here, either. I try to help out everywhere I can. It's become more difficult, but this is what I live and breathe. My husband was a ballet dancer [People's Artist of the USSR Yuri Soloviev — ed.], my daughter is a ballet dancer, and her husband is also a ballet dancer. My grandchildren are not ballet dancers; they still need to work out what they want to do with their lives."
"What have been the biggest changes in the ballet world in recent times?"
"For a long time, we didn't travel at all, although we didn't mind that. The main thing was the work. After years of working in the theatre, I've seen everyone there is to see. But now, when I talk to the girls about Lyubov Voishnis, they don't even know who she is. Of course, they know about Shelest and Dudinskaya. But I was there to see Tatiana Vecheslova dance, and I remember Feya Balabina. I even danced with Chabukiani and Dudinskaya in Laurencia. It's pure joy for a girl to find herself in such company. I also danced with Nureyev in Laurencia, but in Vienna. And I helped out Misha Baryshnikov by dancing the She-devil in La Création du Monde at his recital evening in 1974."
"One of your crowning roles was Zlyuka in Konstantin Sergeyev's production of Cinderella. Are your pupils able to imagine you in this kind of role? Word has it that you are exceptionally kind to your girls."
"I rehearse with the entire corps de ballet. Everyone knows that this is the hardest thing to do, and no one wants to do it. You must hold the line, whilst having your legs perfectly turned out at the correct angle and staying in time with the music. Every day, it's the same drill. A corps de ballet dancer's work is hard, but essential. There is no theatre without the corps de ballet.
I think our corps de ballet is just about beginning to come into its own. The girls are so lithe, graceful, and energetic! Our girls have good form. I work hard on them, but without shouting. I go up to them, talk, and explain how I used to do it. And I feel that bit by bit I am winning them over. Being strict is all well and good, but you have to love them."