Media about us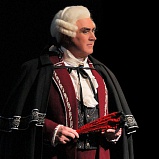 23.06.2015
Nikolay Kopylov: "My service to the theatre"
People's Artist of Russia Nikolay Kopylov celebrates his sixty-fifth birthday on 27 June. On the day before this milestone, he will take the stage for a performance of the opera Tosca, playing Baron Scarpia, one of his best-loved roles. On the eve of his performance, Kopylov discussed his views on life, his favourite roles and his faith in the new generation of singers.
"Teacher and mentor"
I had the opportunity to go to the Bolshoi Theatre or to the Mariinsky. But, having sung in a handful of performances at those theatres, I know that our stage is the best there is. I am happy to say that I work at the Mikhailovsky Theatre and that I haven't moved elsewhere. I consider the theatre my home and couldn't imagine my life without it now. I also stayed because that's the way artists of my generation were brought up. We consider ourselves to be in the service of the theatre, and I am happy that I can offer the Mikhailovsky even more. We have very good working relationships within the company here. It's a pleasure for me to sing in a production and see our younger performers sitting in the wings listening, learning and later coming over and reeling off their questions. I feel that in some ways, I am a teacher and mentor for them. If I detect some fault in their performance I try to prompt them subtly. Ours is a very difficult profession. After 40 years as an opera singer, I still do daily voice and breathing exercises and try to stay in good shape. It would be unthinkable to go on stage not on form because you have to set an example to the young soloists. You have to remind them of the need to work hard every single day! Talent alone is not enough! God gave you a voice, your teacher taught you how to use it, and the rest is up to you. Every day, every performance, every season — you must put yourself through painstaking work. And if you start to tell yourself that you've mastered it, then you should also know that that's when you begin to lapse.
From Sakhalin to St. Petersburg
I grew up in Sakhalin, in a small mining village. My mother lives there to this day, at 96 years of age. I remember a boy in our school who was two years above me, and how he would sing with a wonderful, childlike voice, like Robertino Loreti, and everyone paid special attention to him. And then he suddenly lost his voice. As a result, the school found itself without a soloist to take part in amateur performances and competitions. My voice came to me in 1965, not as a child's singing voice, but as a man's, and I began to sing. My father bought a music player with a radio, a turntable for vinyl and a reel-to-reel tape recorder. At night I would listen to the radio and copy out the lyrics from Muslim Magomayev's songs into my exercise book. I 'came to stardom' very quickly at school, entering competitions, but I never thought for a minute that I would go on to study singing. After school I went to medical school. A composer working on local amateur performances heard me singing, took me by the hand and marched me off to the musical academy. Then it was the army. I found myself leaving Khabarovsk for Sverdlovsk to study at the conservatoire. In my third year I was invited to the then Sverdlovsk State Opera and Ballet Theatre, where I stayed for six years. In 1982, I moved to St. Petersburg to work at the Maly Opera Theatre.
Belief in young people
I have been involved in teaching twice. The first time was when I was teaching a music course in a theatrical academy on Mokhovaya Street, and the second was when I was invited to teach at the conservatoire. Unfortunately, I was so overloaded with work at the theatre that I was only able to keep the teaching posts up for four years in each instance. Nowadays I feel an urge to pass on everything that I have learnt. I took my students for auditions at the Zazerkalie Theatre, and they were successful. By the way, there were 35 people at these auditions, and I noticed one girl who sang an aria from The Snow Maiden. Her breathing was off and she couldn't hit the high notes, and yet still I had a feeling that this person wanted to sing. But could she? And then suddenly, in the middle of the aria, I heard a string of five notes which left me feeling shaken. I suggested that she should work on her voice and after a few lessons come and enrol in a master's course with me at the Herzen State Pedagogical University. The other day she won the role of Violetta in a production at the St. Petersburg Chamber Opera. This is simply unheard of! She has grown and developed so much in one year that by October she will be singing one of the most difficult parts in all of opera.
Real art
The opera character closest to my heart is Prince Igor. He has such depth! Like all ordinary Russians, I'm proud of my country and I love my homeland. I want the best for it and I hope that those who come to see the performance understand it too, and are infected by the same sentiment. After all, people don't come to the theatre just for entertainment, but also to enrich themselves. There should be a kind of patriotic education, just not the kind employed by our Soviet comrades, who advocated education by the sword and axe. Real art can achieve a great deal in this respect. I mean real art! I just think that we shouldn't make a farce or a mockery out of art.
The riches of The Miserly Knight
By the standards of the time, I joined the theatre at a very young age, when I was 26. My first appearance was in The Queen of Spades. This production is still staged at the Mikhailovsky Theatre, which is something that makes me very happy. The performance has changed a little over the years, but it's very well staged and designed. The young directors who put it on now see things in their own way to some extent, bringing in new elements. I bring this up from time to time, saying that it wasn't staged this way in the past. They take my advice. In a way, I'm like the miserly knight, sitting on my wealth, and it's these performances which constitute my wealth.
On operatic villains
The older you get, the more serious the roles become. To celebrate my birthday, I'll be appearing on stage as Baron Scarpia in Tosca. If you play him as a villain, then nothing good will come of it. If you can convey to the audience a historical personality, a man who played a huge role in the life of Rome, then that will make for an interesting performance. For me, the character is a many-sided figure, a historical individual who had all kinds of responsibilities and fulfilled them. He was heavy-handed perhaps, but that is what was required of him. It's a role that I love, and one which I always sing with joy. He really is a creature full of passion.