Media about us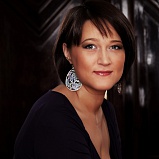 06.11.2014
Maria Litke on the Chinese soul and vocal technique
Maria Litke, a soloist at the Mikhailovsky Theatre, has won the International Vocal Competition in Ningbo, a contest supported by the Ministry of Culture of the People's Republic of China.
In China, this musical forum is considered to be on a par with Russia's International Tchaikovsky Competition. This is the sixth time the event has been held, and its scale is in keeping with the size and population of the Celestial Empire. Five hundred performers were chosen from several thousand applicants, and 85 of the best singers from 40 countries made it to the final round. The international jury was made up of musicians from Europe and Asia and chaired by the President of the China National Opera House, Yu Feng.
Maria Litke explains:
"The competition in Ningbo was completely different from anything I've taken part in before. In modern Chinese opera music, a great deal of attention is paid to technical perfection, unlike in Europe and Russia where there is more emphasis on individuality and expression. Chinese performers prefer to demonstrate more complicated techniques at competitions. For example, if a coloratura soprano is singing, she must be performing a virtuoso aria by Bellini, Donizetti, or Offenbach. The contest featured all types of female voices, but there are few dramatic female voices in China, so I didn't have much competition. I sang Imogene's madness from the Bellini opera Il pirata, Odabella's cavatina from Verdi's Attila, the Turandot aria from Puccini's opera, and an excerpt from Wagner's Tannhäuser. From Russian opera, I sang Lisa from The Queen of Spades. No one else in my voice category sang such a varied and complex programme.
Chinese audiences are different to ours. They love to talk about everything immediately, rather than sit in dead silence as we are accustomed to; many people take photographs. Therefore, with my performance, I tried to keep people from talking so that silence could be restored and the spirit of the music could get through to the listeners. When I put together my programme, I tried to include compositions that the local audience might not be familiar with, so, for example, I sang romances by Rachmaninoff and Tchaikovsky. I also performed a song in Chinese, which I learned especially for the competition.
The Chinese vocalists who won can also sing from their heart and soul, regardless of the fact that they were clearly striving for technical perfection. After all, mechanical dolls don't evoke emotion. This was evident to the orchestra as well. I felt that they played for me with greater enthusiasm."