Media about us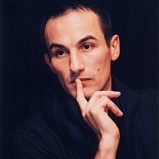 07.10.2013
Jerome Kaplan: "My most interesting offers have come from the world of dance"
The celebrated French set designer Jerome Kaplan is joining Nacho Duato to work on a new production of The Nutcracker. A true Parisian, he brings a 'family nostalgia' for Russian culture to his sets and costumes for ballet.
"This is the first time that I've been offered the opportunity to work in St. Petersburg, and I'm glad to be able to speak a little about myself. I'm French, and I live in Paris, but my grandfather was Russian. He left Russia after the revolution and ended up in France, where he met my grandmother. So, I became familiar with Russian culture through that side of my family, who always harboured a sense of nostalgia for it. I was absolutely delighted when I got my first offer to work in Russia: in 2011 I worked with Alexey Ratmansky on the ballet Lost Illusions at the Bolshoi Theatre in Moscow. And it was with great pleasure that I accepted the offer to do the set and costumes for The Nutcracker at the Mikhailovsky Theatre. I think St. Petersburg is the best place for it, because it was here that this ballet was born, and here that it was first performed.
"I got into set design partly by chance, when I was still very young. I designed my first stage set when I was about 20 years old. I got through competitive selection for theatre school by accident really — I only did it to accompany a friend. It's a very famous school, named after the road it's on: L'École de la Rue Blanche. A lot of famous names have graduated from there — mostly actors, like Fanny Ardant, for example. I underwent the competition for set design, though I was thinking of doing something more like drawing or illustration. I have also always enjoyed making small things, and I now get great pleasure from making theatre models — scaled down copies of the set. When I was young, I thought about becoming an architect. Architecture is a very exciting occupation, but to me it seemed too academic; being an architect is almost the same as being an engineer. The creative, artistic side of the profession is just as important, and because of this, set design was ultimately a very logical choice for me.
"I designed my first set when I was still at school, and even then I was drawn by the theatre costumes. Very often on big productions there is one artist in charge of set design and another in charge of costumes, but this approach seems to me a mistake. Looking back into the past we see that the artists who really stand out, like Leon Bakst, did both. It means that there is greater correlation in the aesthetics, in colour, and staging decisions. There are a great many advantages when one artist does everything for the production.
"Initially, I worked in opera, in various cities and for various festivals. That's still the case sometimes today. Working in musical theatre is very different from working on stage plays, which I'm asked to do from time to time. It's an art form that's more restrained, and not as visually rich. In musical theatre you think about visual effects; you usually have several set changes. In a play you have to work more with the text, with its meaning, which requires considerable intellectual effort. But I still I prefer bewitching, enchanting, magical theatre — and this is what the world of ballet gives me. My most interesting offers have come from the world of dance! I love classical ballet and modern dance equally. Russian ballet — as everyone knows — is famous for its huge aesthetic range."
You can find out more about Jerome Kaplan's artistic biography on his website.