Media about us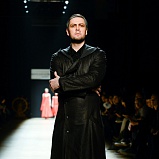 09.02.2015
Alexander Kuznetsov: Ride the wave, like a surfer
On 11 February the Mikhailovsky Theatre soloist Alexander Kuznetsov will debut in the title role of Richard Wagner's Der fliegende Holländer. He has already performed extracts from the opera in symphonic concerts and has even taken to the catwalk, showcasing the main character as part of a fashion show. But total immersion in a dramatic work requires considerable nerve, according to the singer.
"Even if only one person ends up on stage in the actual performance, a large number of people will have worked on it," Kuznetsov says. "The list is endless: from prop masters and production assistants who work on the technical aspects of the production, to the concertmaster and other soloists. I am grateful to all of those people who have assisted me in taking on this role, and I feel a great responsibility too. Wagner's repertoire is considered to be very complex and intense. I don't want to jinx it, but it doesn't seem as intimidating now as it did before we began working on the performance.
"The Dutchman is a classic romantic hero. One might describe our interpretation as non-traditional, and it certainly takes a modernist approach, but this doesn't stop me from appreciating the underlying music or from understanding Wagner and his themes of fate, the world, hope and love. I don't even have to concoct an interpretation of this role, because it unveils itself before my eyes. I hear the sounds of the orchestra; they conjure this wave, which you catch just like a surfer. And once you succeed in that, the wave simply carries you. This allows me to convey the feelings that Wagner wanted to express and to replicate the sounds the director imagined.
"As a rule, I think that if a man lives to be eighty or ninety, he will end up being saturated with life and totally bogged down by the weight of experience. The Dutchman on the other hand is burdened by eternal uncertainty and disappointment. Ultimately, what torments him is not so much his wanderings as his traitorous hope. He hopes that he will one day find a woman with the power to give him happiness, yet he is forsaken every time."