Media about us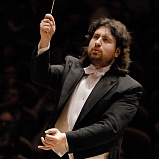 25.05.2015
A celebration of Tchaikovsky
On 14 June, Dmitri Jurowski will conduct the Mikhailovsky Theatre Symphony Orchestra in a concert programme marking the 175th anniversary of the birth of Pyotr Tchaikovsky. The concert will feature the Lithuanian soprano Violeta Urmana and the world-renowned violinist Vadim Repin. During preparations for the event, maestro and member of the legendary Jurowski musical dynasty, Dmitri Jurowski, discussed the evening's programme, as well as his own personal feelings towards the great Russian composer.
"When you've grown up in a family of Russian-speaking musicians, regardless of where you are — in Russia or abroad — you always possess the utmost reverence for Tchaikovsky. Indeed, it is not only the case in my family. I've spent practically my whole life living in the West, and I can say with complete conviction that attitudes to Tchaikovsky are always more than just positive; he is adored. My personal feelings towards him became even stronger after I paid a visit to the Tchaikovsky House Museum in Klin. While there, I was lucky enough to play a few notes on his piano, and simply breathe in that unique atmosphere, as if the owner had stepped out for a while and would soon be back home. It felt like you had encountered something special, something sacred.
"It's impossible to truly surprise people at an event like this, even on an anniversary year of Tchaikovsky. After all, his work is played often enough regardless. That said, when we were putting the programme together, we set ourselves a special objective: we wanted the concert to showcase most of the genres in which Tchaikovsky worked. There will be ballet works, operatic compositions, chamber music and pieces for violin and orchestra. There will also be symphonic poems, some of which are based on theatrical works, such as Romeo and Juliet, as well as works based on Tchaikovsky's own experience, such as Capriccio Italien, in which he fictionalizes his stay in Italy, giving a personal take on the country and demonstrating some of his distinctive stylistic traits. You can see that the programme will be highly varied.
"The concert will also feature some wonderful soloists. This is the first time that I will be working with the magnificent Violeta Urmana, initially in the upcoming performance of Cavalleria Rusticana, and then for the concert on 14 June. Over the past few years, I have formed a close working relationship with Vadim Repin; we have often performed together in Moscow and abroad, and he recently invited me to his Trans-Siberian Art Festival.
"I am currently conducting a series of opera productions at the Mikhailovsky Theatre. From the very first meeting held with the musicians in December, I felt as if I had known the orchestra for a long time. This is not just because my older brother Vladimir has worked here in the past, but rather due to the quality and aptitude of the musicians, not only in terms of their ability, but also on a personal level. Their readiness to work hard and focus on the task at hand make this role a joy for any guest conductor. I hope that we will continue to work on interesting projects in the future. The orchestra is young in the best possible sense, but it also has a large number of experienced musicians who are proficient in a wide range of styles. On 14 June we will demonstrate all these styles with the works of one single composer — Tchaikovsky."