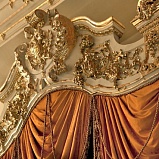 20.04
What is the Friends Club?
The life of ballet dancers and opera singers is always something of a mystery. There are so many stories, myths, opinions, and rumours that surround it. A Mikhailovsky Theatre Friends Club membership card gives the holder the chance to see that life at first hand, go backstage, and enjoy productions before they are premiered.
Friends Club members — like-minded connoisseurs of exquisite art — are always the first to hear about forthcoming premieres and events. They receive discounts, bonuses and other pleasant surprises, and also have access to what ordinary theatregoers never see — the backstage area, dressing rooms, and even dress rehearsals.
The Mikhailovsky Theatre Friends Club welcomes anyone with an interest in the cultural life of St. Petersburg, all true devotees of classical art, and those keen on visiting parts of the theatre that are off limits to most people.
Members of the Friends Club enjoy a number of benefits: advance ticket reservations via a personal account manager, discounts, tickets, and invitations to exclusive Friends Club special events. You will have the chance to meet our performers, get an insider's view of the theatre, take a peek behind the scenes, and even go on stage.