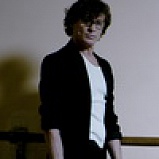 01.01
Special offer for the Mikhailovsky Friends
Only members of the Friends Club now have a chance to purchase tickets for
Duende
and
Without
Words
by Nacho Duato with a 30% discount.
On January 1, 2011 the outstanding choreographer Nacho Duato became a head of the Mikhailovsky Theatre Ballet. The first premier with Nacho Duato as an artistic director will take place on March 15 and 16. The choreographer will present 3 ballets:
Without
Words
,
Nunc
Dimittis
,
Duende
.
The members of the Friends Club have an exclusive opportunity until January 15 to purchase tickets for this event at a special price with a 30% discount.
If you are not a part of our Friends Club yet, join now.
To book tickets please contact the Friends Club manager.