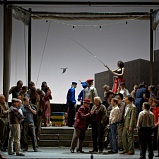 26.01.2015
Open advance booking tickets for the opera Pagliacci with Neil Shicoff
Only for the Friends club members from 26 to 30 January opened advance booking tickets for the opera Pagliacci. First time part Canio at the Mikhailovsky Theatre will perform the famous American tenor — Neil Shicoff.
For ticket reservations please contact the manager of the Friends Club by e-mail: friends@mikhailovsky.ru.
The performance will take place on April 21.