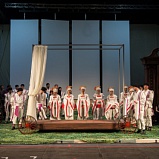 05.05.2017
Dress rehearsal of Mozart. The Marriage of Figaro
Mikhailovsky Theatre invites Friends Club (Category: Honorable friend, Patron, Honorary Patron) to the rehearsal of the opera
Mozart. The Marriage of Figaro
.
Vyacheslav Starodubtsev's
Mozart. The Marriage of Figaro
is brimming with oriental motifs, which are reflected too in the acting style. Working on one of Wolfgang Amadeus Mozart's most important operas, the director has taken inspiration from the chinoiserie aesthetic that was so fashionable in European art of the late 18th century. This is a sophisticated offshoot of rococo style, drawing on the artistic traditions of Medieval China. Porcelain, coloured silks, sliding screens, and elegant tea houses tucked away in the depths of the garden were adopted as part of the European aristocratic lifestyle. Along with production designers, Vyacheslav Starodubtsev has decided to set the opera in a stately home, where oriental fashion not only has a bearing on the interior design, but also on the way of life.
The rehearsal will take place on 9 May at 18.00. Please confirm your attendance by emailing the Friends Club Manager at:
friends@mikhailovsky.ru