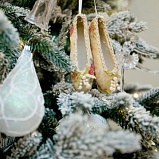 13.01.2017
Invitation to Friends Club evening celebration
Dear friends, the Christmas and New Year festivities may have come and gone, but now a whole year of stunning performances, unforgettable premieres and long-awaited events lies ahead.
To start off the year, we're delighted to invite you to a special evening for Friends Club members. You can expect gifts, of course, as well as a musical programme entitled "Journey into the world of jazz", performed by Mikhailovsky Theatre musicians.
The event will begin at 19:00 on 19 January in the Tchaikovsky Room of the Grand Hotel Europe (1/7, Mikhailovskaya Ulitsa).
If you'd like to attend, please confirm by emailing the Friends Club Manager at
friends@mikhailovsky.ru
.