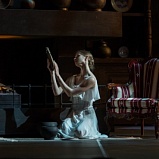 11.09.2017
Dress rehearsal of the ballet Cinderella
Mikhailovsky Theatre invites Friends Club (Category: Honorable friend, Patron, Honorary Patron) to the rehearsal of the ballet
Cinderella
.
The Mikhailovsky's premiere of Prokofiev's
Cinderella
will mark the 110th anniversary of the birth of the outstanding Soviet choreographer Rostislav Zakharov. This eminent representative of the Leningrad school of ballet staged the original premiere in Moscow's Bolshoi Theatre in 1945, following the end of the Second World War. The modern version of this legendary ballet, bursting with joy and happiness, is being prepared by choreographer Mikhail Messerer, stage designer Vyacheslav Okunev and multimedia director Gleb Filshtinsky. "When Russian children first hear the tale of Cinderella (
Zolushka
in Russian), they think her name derives from
zoloto
— gold," said the Mikhailovsky Theatre's artistic director Vladimir Kekhman. "Our production will live up to their expectations. The production team will create a ball of sparkling beauty. We want to give the audience a genuine feel-good experience, one that will be enjoyed by all the family."
The rehearsal will take place on 13 September at 18.00.
Please confirm your attendance by emailing the Friends Club Manager at:
friends@mikhailovsky.ru