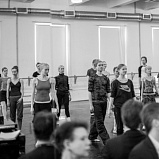 29.08
Dress rehearsal of the ballet Class Concert
Dear Friends! The Mikhailovsky Theatre's 182nd season will open on 8 September with a programme of three one-act ballets, including the first première of the season, Class Concert.
We inviting members of the Friends Club (Honoured Friends, Patrons and Honoured Patrons) to a dress rehearsal of Class Concert.
The rehearsal will take place on 6 September at 19:00. Please confirm your attendance by emailing the Friends Club Manager at: friends@mikhailovsky.ru.