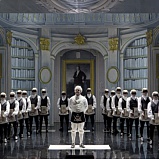 16.03
Rehearsal of the opera Die Zauberflöte
Mikhailovsky Theatre invites Friends Club (Category: Honorable friend, Patron, Honorary Patron) to the rehearsal of the opera Die Zauberflöte.
Mozart's opera Die Zauberflöte will be performed on the Mikhailovsky's stage in a version first seen at the Opéra de Lausanne in 2010. The well-known German stage designer and director Pet Halmen decided to shift the opera's setting to the Duchess Anna-Amalia Library in Weimar, home to a priceless collection of rare books and librettos. And although the idea for this arose following a terrible fire that broke out at the library in 2004, destroying most of the rare volumes stored there, many critics in Europe deemed the production to be one of the most vivacious and harmonious interpretations of Die Zauberflöte in the modern era.
The rehearsal will take place on March 20 at 18.00. Please confirm your attendance by emailing the Friends Club Manager at: friends@mikhailovsky.ru.