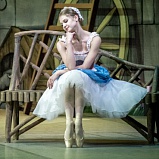 22.07
An Evening with young Ballet Stars
An evening with Angelina Vorontsova, Ivan Zaytsev and Victor Lebedev will open the new theatre season for Mikhailovsky Friends Club members. These talented young artists are already being referred to as rising stars. They will talk about their plans and the upcoming US tour.
We will inform you about date and time later.
Please confirm your attendance by emailing the Friends Club Manager at: friends@mikhailovsky.ru.