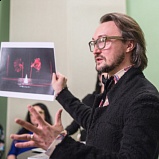 11.04.2017
An evening with Vyacheslav Starodubtsev
The Mikhailovsky Theatre invites the Friends Club to an evening with director Vyacheslav Starodubtsev.
In May, the première of Vyacheslav Starodubtsev's production of
Mozart. The Marriage of Figaro
comes to our stage. At this Friends Club event the young director, known for his striking interpretations of opera classics, will talk about his vision of the theme of Mozart's opera, the concept behind the upcoming production, and his directorial innovations.
The event will take place on 18 April at 20:00.
Please confirm your attendance by emailing the Friends Club Manager at:
friends@mikhailovsky.ru
.