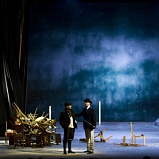 04.07.2016
Priority booking for the production of The Storm
Only for members of the Friends Club priority booking for the production of The Storm is open until 14 July.
Leoš Janáček's opera, which was performed several times during the theatre's 178th season under the title Katya Kabanova, returns with a new title. The opera has been invariably successful with foreign audiences for almost a century, but remains a rare visitor to Russian theatres. In fact, Janáček, one of the most important operatic composers of the first half of the twentieth century, is often called the most Russian of European composers, though it is hard to find traces of Russian folklore in his music. What makes him 'Russian' is that his sensual female characters are inspired by classic Russian literature and can be compared with Liza in The Queen of Spades and Katerina Izmailova in Lady Macbeth of the Mtsensk District.
The premiere performances will be held at the Mikhailovsky Theatre on 20 and 23 November.
Please submit your application to the manager of the Friends Club: friends@mikhailovsky.ru