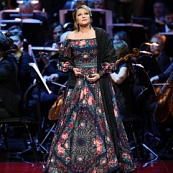 Jun. 19, 2018
Jun. 30, 2018

France, Italy
Tour of France and Italy
Opera soloists from the Mikhailovsky Theatre are set to give a series of performances in France and Italy. The music festival from 19 to 30 June will feature works by Tchaikovsky and other Russian classical composers — Mussorgsky, Rimsky-Korsakov, and Borodin — as well as Mozart and Dvořák representing the Western repertoire.

The tour will open in the Opéra de Nice with Wolfgang Amadeus Mozart's Requiem, a composition unsurpassed in its spiritual power. Bass Alexander Bezrukov and tenor Boris Stepanov will perform the male parts. They will be joined by the Opéra de Nice choir.

The series of concerts on the Ligurian coast will continue with soprano Maria Litke and baritone Nikolay Kopylov, who will perform fragments from Pyotr Tchaikovsky's operas The Enchantress, The Queen of Spades, and Iolanta in Villefranche-sur-Mer. The tour will then move on to Italy, where audiences in Turin, Genoa, San Remo, and Pieve di Teco will become acquainted with the art of these Russian musicians.

The Classica St. Petersburg State Symphony Orchestra, conducted by Honoured Artist of Russia Maestro Alexander Kantorov, will accompany the performances.