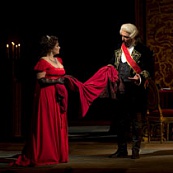 Nov. 25, 2009
Dec. 12, 2009

Japan
The Mikhailovsky Theatre starts its Japan Tour
The Mikhailovsky Theatre has been successfully touring around Japan for twenty years already. The 20th jubilee tour included both ballet and opera performances: ballets Swan Lake, The Sleeping Beauty, The Nutcracker, La Bayadére and operas Eugene Onegin and Tosca.

Farukh Ruzimatov took part in the tour: he performed the role of Solor in the ballet La Bayadére.

The Mikhailovsky Opera presented Tosca by Giacomo Puccini and Eugene Onegin by Pyotr Tchaikovsky. The 24-year-old Alexey Lavrov made his debut in the role of Onegin. Tatiana Ryaguzova performed the role of Tatiana to great acclaim, as well as Marina Tegubovich and Badri Maysuradze in Tosca.

The Mikhailovsky Theatre also continued the tradition of Christmas chamber concerts for the Japanese audience. Instrumental ensemble and soloists of the Mikhailovsky Theatre toured around Japan with the concert program Ave Maria. The tour took place in November, 25 — December, 12 2009.