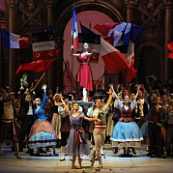 Nov. 11, 2014
Nov. 30, 2014

USA
The Mikhailovsky Ballet goes on tour to USA
In autumn 2014, for the first time in its history, the Mikhailovsky Ballet is going on tour in the United States. From 11–23 November, the Ñompany will perform at the Lincoln Center's David H. Koch Theater in New York, and from 28–30 November, at the Segerstrom Center for the Arts in California.
The Mikhailovsky Ballet has put together a tour programme that includes world classics and ballets from the Soviet period, as well as contemporary productions which demonstrate the company's continual search for new artistic forms.
The company's leading soloists, whose names are synonymous around the world with the highest achievements in Russian ballet today, will take part in the tour. Among these will be the phenomenal Natalia Osipova, Ivan Vasiliev, and Leonid Sarafanov — all top-ranking international stars — as well as dancers, whose talent has received well-deserved recognition and whose names are also well known: Angelina Vorontsova, Oksana Bondareva, Anastasia Soboleva, Victor Lebedev and Ivan Zaytsev.
The Mikhailovsky Theatre acknowledges the generous philanthropic support of the General Partner of the Mikhailovsky Ballet Mr. Sergey N. Adonyev.


Giselle, ou Les Wilis

Fantasy ballet in two acts Music: Adolphe Adam Choreography: Jean Coralli, Jules Perrot and Marius Petipa Production: Nikita Dolgushin Set and Costume Design: Vyacheslav Okunev Lighting Design: Mikhail Mekler

starring Natalia Osipova and Leonid Sarafanov

Giselle, ou Les Wilis

Fantasy ballet in two acts Music: Adolphe Adam Choreography: Jean Coralli, Jules Perrot and Marius Petipa Production: Nikita Dolgushin Set and Costume Design: Vyacheslav Okunev Lighting Design: Mikhail Mekler

starring Anastasia Soboleva and Victor Lebedev

Giselle, ou Les Wilis

Fantasy ballet in two acts Music: Adolphe Adam Choreography: Jean Coralli, Jules Perrot and Marius Petipa Production: Nikita Dolgushin Set and Costume Design: Vyacheslav Okunev Lighting Design: Mikhail Mekler

starring Angelina Vorontsova and Ivan Vasiliev

Giselle, ou Les Wilis

Fantasy ballet in two acts Music: Adolphe Adam Choreography: Jean Coralli, Jules Perrot and Marius Petipa Production: Nikita Dolgushin Set and Costume Design: Vyacheslav Okunev Lighting Design: Mikhail Mekler

starring Natalia Osipova and Leonid Sarafanov

The Flames of Paris

Ballet in three acts Music: Boris Asafiev Choreography: Vasily Vaynonen revised by Mikhail Messerer Set and Costume Design: Vladimir Dmitriev Staging: Mikhail Messerer Set and Costume Design revival: Vyacheslav Okunev Lighting Designer: Alexander Kibitkin Producer: Dmitry Astafyev, Dr. habil General Partner of the production: LenSpecStroy Limited Company

starring Oksana Bondareva and Ivan Vasiliev

The Flames of Paris

Ballet in three acts Music: Boris Asafiev Choreography: Vasily Vaynonen revised by Mikhail Messerer Set and Costume Design: Vladimir Dmitriev Staging: Mikhail Messerer Set and Costume Design revival: Vyacheslav Okunev Lighting Designer: Alexander Kibitkin Producer: Dmitry Astafyev, Dr. habil General Partner of the production: LenSpecStroy Limited Company

starring Angelina Vorontsova and Ivan Zaytsev

The Flames of Paris

Ballet in three acts Music: Boris Asafiev Choreography: Vasily Vaynonen revised by Mikhail Messerer Set and Costume Design: Vladimir Dmitriev Staging: Mikhail Messerer Set and Costume Design revival: Vyacheslav Okunev Lighting Designer: Alexander Kibitkin Producer: Dmitry Astafyev, Dr. habil General Partner of the production: LenSpecStroy Limited Company

starring Oksana Bondareva and Ivan Vasiliev

The Flames of Paris

Ballet in three acts Music: Boris Asafiev Choreography: Vasily Vaynonen revised by Mikhail Messerer Set and Costume Design: Vladimir Dmitriev Staging: Mikhail Messerer Set and Costume Design revival: Vyacheslav Okunev Lighting Designer: Alexander Kibitkin Producer: Dmitry Astafyev, Dr. habil General Partner of the production: LenSpecStroy Limited Company

starring Angelina Vorontsova and Ivan Vasiliev

Three Centuries of Russian Ballet

Starring Natalia Osipova, Ivan Vasiliev, Leonid Sarafanov, Angelina Vorontsova, Irina Perren, Anastasia Soboleva, Victor Lebedev, Ekaterina Borchenko, Ivan Zaytsev and Marat Shemiunov

La Halte de cavalerie Music: Ivan Armsheimer Libretto and choreography: Marius Petipa Revived by Pyotr Gusev

Class Concert Music: Alexander Glazunov, Anatoly Lyadov, Anton Rubinstein, Dmitri Shostakovich Music composition: Alexander Tseitlin Choreography: Asaf Messerer Staging: Mikhail Messerer Stage Designer: Vyacheslav Okunev Lighting Designer: Alexander Kibitkin Producer: Dmitry Astafyev, Dr. habil General partner of the production: LenSpecStroy Limited Company

Prelude Music: George Handel, Ludwig van Beethoven, Benjamin Britten Choreographer, Stage Designer, Costume Designer: Nacho Duato Lighting Designer: Brad Fields

Three Centuries of Russian Ballet

Starring Natalia Osipova, Ivan Vasiliev, Leonid Sarafanov, Angelina Vorontsova, Irina Perren, Anastasia Soboleva, Victor Lebedev, Ekaterina Borchenko, Ivan Zaytsev and Marat Shemiunov

La Halte de cavalerie Music: Ivan Armsheimer Libretto and choreography: Marius Petipa Revived by Pyotr Gusev

Class Concert Music: Alexander Glazunov, Anatoly Lyadov, Anton Rubinstein, Dmitri Shostakovich Music composition: Alexander Tseitlin Choreography: Asaf Messerer Staging: Mikhail Messerer Stage Designer: Vyacheslav Okunev Lighting Designer: Alexander Kibitkin Producer: Dmitry Astafyev, Dr. habil General partner of the production: LenSpecStroy Limited Company

Prelude Music: George Handel, Ludwig van Beethoven, Benjamin Britten Choreographer, Stage Designer, Costume Designer: Nacho Duato Lighting Designer: Brad Fields

Don Quixote

Ballet in three acts and a prologue Music: Ludwig Minkus Choreography: Marius Petipa and Alexander Gorsky. The production also features choreography by Nina Anisimova, Igor Belsky, Robert Gerbek, Kasyan Goleyzovsky and Fyodor Lopukhov Staging: Mikhail Messerer Set and Costume Design: Vyacheslav Okunev Lighting Design: Alexander Kibitkin

starring Natalia Osipova and Ivan Vasiliev

Don Quixote

Ballet in three acts and a prologue Music: Ludwig Minkus Choreography: Marius Petipa and Alexander Gorsky. The production also features choreography by Nina Anisimova, Igor Belsky, Robert Gerbek, Kasyan Goleyzovsky and Fyodor Lopukhov Staging: Mikhail Messerer Set and Costume Design: Vyacheslav Okunev Lighting Design: Alexander Kibitkin

starring Angelina Vorontsova and Victor Lebedev

Don Quixote

Ballet in three acts and a prologue Music: Ludwig Minkus Choreography: Marius Petipa and Alexander Gorsky. The production also features choreography by Nina Anisimova, Igor Belsky, Robert Gerbek, Kasyan Goleyzovsky and Fyodor Lopukhov Staging: Mikhail Messerer Set and Costume Design: Vyacheslav Okunev Lighting Design: Alexander Kibitkin

starring Oksana Bondareva and Leonid Sarafanov

Don Quixote

Ballet in three acts and a prologue Music: Ludwig Minkus Choreography: Marius Petipa and Alexander Gorsky. The production also features choreography by Nina Anisimova, Igor Belsky, Robert Gerbek, Kasyan Goleyzovsky and Fyodor Lopukhov Staging: Mikhail Messerer Set and Costume Design: Vyacheslav Okunev Lighting Design: Alexander Kibitkin

starring Angelina Vorontsova and Ivan Vasiliev

Don Quixote

Ballet in three acts and a prologue Music: Ludwig Minkus Choreography: Marius Petipa and Alexander Gorsky. The production also features choreography by Nina Anisimova, Igor Belsky, Robert Gerbek, Kasyan Goleyzovsky and Fyodor Lopukhov Staging: Mikhail Messerer Set and Costume Design: Vyacheslav Okunev Lighting Design: Alexander Kibitkin

starring Natalia Osipova and Ivan Vasiliev

The Flames of Paris

Ballet in three acts Music: Boris Asafiev Choreography: Vasily Vaynonen revised by Mikhail Messerer Set and Costume Design: Vladimir Dmitriev Staging: Mikhail Messerer Set and Costume Design revival: Vyacheslav Okunev Lighting Designer: Alexander Kibitkin Producer: Dmitry Astafyev, Dr. habil General Partner of the production: LenSpecStroy Limited Company

starring Oksana Bondareva and Ivan Vasiliev

Tickets can be purchased at the Segerstrom Center for the Arts in California

The Flames of Paris

Ballet in three acts Music: Boris Asafiev Choreography: Vasily Vaynonen revised by Mikhail Messerer Set and Costume Design: Vladimir Dmitriev Staging: Mikhail Messerer Set and Costume Design revival: Vyacheslav Okunev Lighting Designer: Alexander Kibitkin Producer: Dmitry Astafyev, Dr. habil General Partner of the production: LenSpecStroy Limited Company

starring Angelina Vorontsova and Ivan Zaytsev

Tickets can be purchased at the Segerstrom Center for the Arts in California

The Flames of Paris

Ballet in three acts Music: Boris Asafiev Choreography: Vasily Vaynonen revised by Mikhail Messerer Set and Costume Design: Vladimir Dmitriev Staging: Mikhail Messerer Set and Costume Design revival: Vyacheslav Okunev Lighting Designer: Alexander Kibitkin Producer: Dmitry Astafyev, Dr. habil General Partner of the production: LenSpecStroy Limited Company

starring Oksana Bondareva and Ivan Vasiliev

Tickets can be purchased at the Segerstrom Center for the Arts in California

The Flames of Paris

Ballet in three acts Music: Boris Asafiev Choreography: Vasily Vaynonen revised by Mikhail Messerer Set and Costume Design: Vladimir Dmitriev Staging: Mikhail Messerer Set and Costume Design revival: Vyacheslav Okunev Lighting Designer: Alexander Kibitkin Producer: Dmitry Astafyev, Dr. habil General Partner of the production: LenSpecStroy Limited Company

starring Angelina Vorontsova and Ivan Vasiliev

Tickets can be purchased at the Segerstrom Center for the Arts in California




Presented by Ardani Artists