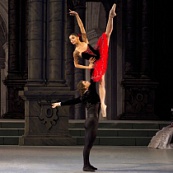 Mar. 26, 2013
Apr. 17, 2013

London, UK
The Mikhailovsky Theatre on tour in London
The Mikhailovsky Theatre ballet will visit London in the spring of 2013. This will be the company's third appearance at the Coliseum Theatre. It previously gave touring performances in London in 2008 and 2010. The programme will include ballets by Nacho Duato, in addition to the classics
Giselle
,
Don Quixote
, and
Laurencia.
Performances will feature the Mikhailovsky Theatre's ballet stars Natalia Osipova, Ivan Vasiliev, and Leonid Sarafanov, as well as Guest Principal Dancers Polina Semionova and Marcelo Gomes.
Nikita Dolgushin's version of
Giselle
first captivated London audiences during the 2008 tour and is now a traditional fixture in the Mikhailovsky Theatre's programme in the British capital. Gerald Dowler of the
Financial Times
called it «a performance of the highest standards» and remarked upon its «impeccable style». Soon British viewers can again experience the tender charm of this romantic ballet.
Don Quixote
is invariably popular, as it gives the dancers the opportunity to demonstrate their virtuosity, temperament, and acting skills.
Laurencia
arouses particular interest, as a production from the 'golden age' of Soviet ballet that is not being performed anywhere else. These ballets have been revived by the Mikhailovsky Theatre's Principal Guest Ballet Master Mikhail Messerer, an acknowledged expert on ballet heritage, who is in high demand all over the world as a teacher.
Nacho Duato's works will occupy the place of honour in the London programme. His
Multiplicity. Forms of Silence and Emptiness
is a choreographic tribute to Johann Sebastian Bach. Critics have called it 'a real triumph' that stands among the master's greatest works. There will also be an evening of three one-act ballets. For the London tour, Duato has chosen his world-famous ballet
Without Words
to the music of Franz Schubert and two pieces from his St. Petersburg period,
Nunc Dimittis
and
Prelude
, conceived especially for the Mikhailovsky Theatre. Taken together, these ballets, which differ in tonality and in concept, provide a vivid and comprehensive impression of Nacho Duato's original style.
http://www.eno.org/see-whats-on/see-whats-on.php
Giselle, ou Les Wilis

Starring Natalia Osipova and Ivan Vasiliev

Giselle, ou Les Wilis

Starring Polina Semionova and Marcelo Gomes

Giselle, ou Les Wilis

Starring Polina Semionova and Marcelo Gomes

Giselle, ou Les Wilis

Starring Olesya Novikova and Leonid Sarafanov

Don Quixote

starring Natalia Osipova and Ivan Vasiliev

Don Quixote

starring Natalia Osipova and Ivan Vasiliev

Don Quixote

starring Natalia Osipova and Ivan Vasiliev

Laurencia

starring Natalia Osipova and Ivan Vasiliev

Laurencia

starring Natalia Osipova and Ivan Vasiliev

Multiplicity. Forms of Silence and Emptiness

starring Polina Semionova and Leonid Sarafanov

Multiplicity. Forms of Silence and Emptiness

starring Polina Semionova and Leonid Sarafanov

Without Words. Nunc Dimittis. Prelude

starring Leonid Sarafanov