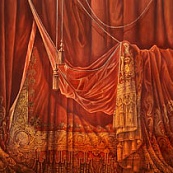 Dec. 03, 2011
Jan. 10, 2012

Japan
The Mikhailovsky Theatre on tour in Japan
The Mikhailovsky Theatre first toured Japan over 30 years ago. Since then Japanese audiences have always greeted our performers with enthusiasm, and the winter tour has become a wonderful tradition. This year, during the Christmas and New Year holidays, performers from St Petersburg will again be offering Japanese theatregoers a joyful encounter with music and ballet.
The upcoming guest performances open on 3 December with a concert given by the theatre's chamber orchestra. The special holiday programme will feature music by Wolfgang Amadeus Mozart, Antonio Vivaldi, Franz Schubert, George Handel, and Pyotr Tchaikovsky. 19 concerts are scheduled to be held in 8 Japanese cities. The orchestra will gain more members closer to New Year. The theatre's large symphony orchestra will perform a Christmas concert, as well as Ludwig van Beethoven's 9th Symphony, which has become a permanent fixture in the holiday performances in Japan. Both the chamber and the symphony orchestra concerts will feature the theatre's leading opera soloists: Marina Tregubovich, Svetlana Moskalenko, Dmitry Karpov and Nikolay Kopylov.
The ballet troupe's guest performances will take place from 3 January to 15 January. The shows will begin with a festive gala-concert, including excerpts from classical ballets. Theatregoers will also be able to enjoy outstanding productions from the theatre's repertoire:
Le Corsaire
, which is being performed for the first time for Japanese audiences, and the celebrated
Swan Lake
, which is eagerly awaited every year.
Ballet
| | | |
| --- | --- | --- |
| January 2012 | | |
| 03.01.2012 | Gala of classical ballets | TOKYO KOKUSAI FORUM HALL A |
| 05.01.2012 | Le Corsaire | TOKYO BUNKA KAIKAN |
| 06.01.2012 | | TOKYO BUNKA KAIKAN |
| 07.01.2012 | Swan Lake | TOKYO KOKUSAI FORUM HALL A |
| 08.01.2012 | | TOKYO KOKUSAI FORUM HALL A |
| 08.01.2012 | | KANAGAWA KENMIN HALL |
| 09.01.2012 | | KANAGAWA KENMIN HALL |
| 11.01.2012 | | SEITOKU GAKUEN KAWNAMI KINEN KODO |
| 13.01.2012 | | OKAYAMA SYMPHONY HALL |
| 14.01.2012 | | HYOGOKEN GEIJUTSU BUNKA CENTER |
| 15.01.2012 | Le Corsaire | HYOGOKEN GEIJUTSU BUNKA CENTER |
| | | |
Orchestra
December 2011
03.12.2011
Ñoncert to be performed by the Theatre's chambers orchestra
TOKYO OPERA CITY CONCERT HALL
03.12.2011


TOKYO OPERA CITY CONCERT HALL
04.12.2011
OSAKA
THE SYMPHONY HALL
06.12.2011


AICHI
AICHIKEN GEIJUTSU GEKIJO
07.12.2011
SHIZUOKA ACT-CITY HAMAMATSU
08.12.2011


SHIZUOKA SHIZUOKA AOI
10.12.2011


KYOTO KYOTO CONCERT HALL
13.12.2011


MIYAGI DENRYOKU HALL
16.12.2011


TOKYO OPERA CITY CONCERT HALL
16.12.2011


TOKYO OPERA CITY CONCERT HALL
17.12.2011


TOKYO OPERA CITY CONCERT HALL
18.12.2011


KANAGAWA YOKOHAMA MINATO MIRAI HALL
18.12.2011


KANAGAWA YOKOHAMA MINATO MIRAI HALL
20.12.2011


IBARAKI NOVA HALL
22.12.2011


KANAGAWA FIJISAWA SHIMIN KAIKAN
23.12.2011


CHIBA MATSUDO CITIZEN HALL
24.12.2011


KANAGAWA GREEN-HALL SAGAMI ONO
24.12.2011


TOKYO OPERA CITY CONCERT HALL
25.12.2011
TOKYO OPERA CITY CONCERT HALL
25.12.2011
Christmas Special Classics
Ñoncert to be performed by the Theatre's symphonic orchestra
TOKYO KOKUSAI FORUM HALL
28.12.2011
Beethoven Symphony No. 9
Ñoncert to be performed by the Theatre's symphonic orchestra
KANAGAWA YOKOHAMA MINATO MIRAI HALL
29.12.2011


TOKYO OPERA CITY CONCERT HALL
30.12.2011


TOKYO OPERA CITY CONCERT HALL








January 2012
10.01.2012
Music from the ballets by Tchaikovsky
Ñoncert to be performed by the Theatre's symphonic orchestra
CHIBA SEITOKU GAKUEN KAWANAMI KINEN KODO