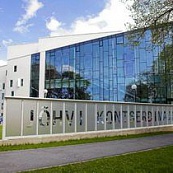 May. 17, 2012
May. 20, 2012

Jõhvi, Estonia
The Mikhailovsky Theatre on Tour in Estonia
The Mikhailovsky Theatre is to take part in the fifth Jõhvi International Ballet Festival in Estonia. On 19 May the company will perform Nacho Duato's one-act ballets
Without Words
,
Duende
, and
Nunc Dimittis
.
On 20 May the audience will be able to see classical one-act ballets: Marius Petipa's
The
Cavalry Halt
,
The
Moor's Pavane
, featuring Farukh Ruzimatov, and Divertissement, consisting of excerpts of classical choreography.
The fifth Jõhvi International Ballet Festival is supported by the Estonian Ministry of Culture.