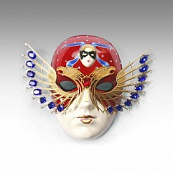 Apr. 07, 2015

Moscow, Russia
The Mikhailovsky theatre goes on tour to Moscow
At the Golden Mask Festival in Moscow, the Mikhailovsky Theatre will present the productions that have been nominated for the nation's most prestigious theatre awards.
On 7 April 2015 — Without Words, Duende and White Darkness (Bolshoi Theatre's new stage)
White Darkness, which was staged at the Mikhailovsky by Nacho Duato, is a contender for Best Contemporary Dance Production. Irina Perren and Leonid Sarafanov have been nominated for Golden Masks for Best Female Role and Best Male Role respectively in the same category: Best Ballet/Contemporary Dance Production for their performances in White Darkness.