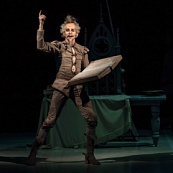 Nov. 09, 2018
Nov. 11, 2018

Costa Mesa, USA
Mikhailovsky Theatre on tour in the USA
This autumn, the Mikhailovsky Theatre ballet company will set off on its latest tour of the United States of America. From the 9th to the 11th of November, coastal California's many lovers of ballet will have the opportunity to enjoy a classic performance of Don Quixote, a vibrant work by Ludwig Minkus that hails from an age of ballet masterpieces. Let temperamental toreadors and their flirtatious companions play your eager hosts in a hot and high-spirited Barcelona as they take you on a journey full of adventure, extraordinary meetings, and unrestrained fun.

The stage of Costa Mesa's Segerstrom Center for the Arts is one that our artists know well: this will be their third tour of California. In 2014, the Mikhailovsky Theatre made its US debut with production of the ballet The Flames of Paris, going on to perform Le Corsaire in 2016.

The tour features the Mikhailovsky Theatre's leading ballet artists. The role of Kitri will be performed by Angelina Vorontsova and Anastasia Soboleva, with Ivan Vasiliev and Victor Lebedev as Basilio. Alexander Omar, Philip Hedges and Adrian Mitchell will dance the role of Espada, while Valeria Zapasnikova and Ella Persson will portray the Street Dancer. The role of Queen of the Dryads will be performed by Svetlana Bednenko and Andrea Laššáková.