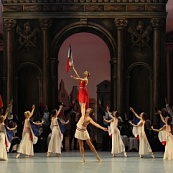 Aug. 23, 2018

Japan
The Mikhailovsky Ballet on tour in Japan
Soloists of the Mikhailovsky Theatre ballet will perform in Japan on 23 August as part of an official visit by the Governor of St. Petersburg, Georgy Poltavchenko.

The Japanese are considered to be among the most devoted admirers of the Russian school of ballet; the Mikhailovsky Theatre has been touring in the Land of the Rising Sun for many years and our dancers are always given the warmest of welcomes. The evening of Russian ballet will be a tribute from Russia's cultural capital, St. Petersburg, to Sapporo's connoisseurs of the arts.

The gala concert will include excerpts from The Flames of Paris, Don Quixote, Le Corsaire, Spartacus and Scheherazade. Among the performers will be Svetlana Bednenko, Anzhelina Vorontsova, Irina Perren, Ivan Vasiliev, Ivan Zaytsev, and Marat Shemiunov.