News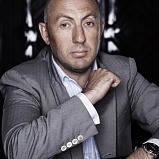 25.12.2013
Vladimir Kekhman's contract as General Director of the Mikhailovsky Theatre extended for a further five years
On 24 December St. Petersburg Vice-Governor Vasily Kichedzhi announced that Vladimir Kekhman's contract as General Director of the Mikhailovsky Theatre had been extended for another five years.
Yury Temirkanov, People's Artist of the USSR and Artistic Director of the St. Petersburg Shostakovich Academic Philharmonia, commented on this decision: "Vladimir Kekhman has become a symbol of the current status of the Mikhailovsky Theatre. It is as though the theatre has been born again, and this is thanks to Kekhman. I am pleased that his contract has been extended. I asked that the authorities be informed (and they were informed) that without Kekhman there would be no Mikhailovsky Theatre. For many decades it was an underground theatre — few people knew that it even existed. And I think that we will repeat the same thing in five years' time, that without Kekhman, there would be no theatre".
Vladimir Medinsky, the Russian Minister of Culture and Chairman of the theatre's Board of Trustees, issued the following announcement: "The Mikhailovsky Theatre has a dynamic team which, while not abandoning traditions, is able to move with the times, creating productions that are fresh and full of life. The ability to find, attract and blend together talented people, to provide them the opportunity for creative freedom, to set a fast pace of life and maintain it — that is the quality that defines Vladimir Kekhman, an outstanding and efficient theatre director. I hope that in the future he will preserve and multiply the unique qualities that define the Mikhailovsky Theatre today".
Vladimir Kekhman, who has been General Director of the Mikhailovsky Theatre since 2007, announced his plans for the coming years: "I should like to devote the next five years to the formation of a unique repertoire, adding new works to our playbill. The theatre's creative leaders have many new ideas; I hope that we will be able to bring them to fruition and that the theatre will boast an entirely unique collection of opera and ballet productions".