News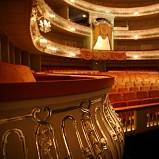 22.02.2019
Tickets are now available
Dear patrons, the performance schedule till the end of the 186th season is now available on our website.
Booking for the performances from 1 May to 14 June is now open on our website and in the theatre box-office. The start of the booking for the performances from 15 June to the end of the season is to be announced.
We apologize for the possible website issues due to high demand on the day of the opening of the booking.