News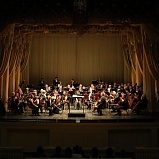 04.12.2018
The Mikhailovsky Theatre Symphony Orchestra at the Hermitage
On 7 December, the Mikhailovsky Theatre at the Hermitage cycle will continue with a concert entitled
Three Masters — Three Worlds: Mendelssohn, Brahms, Dvořák
.
This wonderful programme is a seasonal gift to the State Hermitage from the Mikhailovsky Theatre. One of the world's greatest museums and our close partner, the Hermitage is holding its traditional festive celebration, Days of the Hermitage, throughout December.
The Mikhailovsky Theatre Symphony Orchestra will perform under the baton of the German conductor Roland Böer. The programme is to include Johannes Brahms's
Academic Festival Overture
, Felix Mendelssohn's
Violin Concerto in E Minor
and Antonín Dvořák's
Symphony No. 9 ("From the New World")
.
"The audience at the Hermitage Theatre are in for a beautiful evening," says Böer, who personally compiled the programme. "The three pieces I have chosen for the concert are very different, but what they have in common is that audiences love them passionately and find them deeply moving.
Johannes Brahms represents the classical repertoire of my native Germany. He wrote his
Academic Festival Overture
as an expression of gratitude to the University of Breslau (now Wrocław), which had announced that the composer was to be awarded an honorary doctorate. The mood and tonality of the work suit the festive occasion. The overture is joyful, with traces of the folk music sung by students. We are used to thinking of Brahms as a man with a long grey beard, but in this piece he is still a student. It's as if he is singing along with the other students about how short our life is, and even more so our youth. The composer is telling us, the audience, that we should enjoy every moment of our lives and be grateful for everything we have. We can hear the same thing in the work by the young Mendelssohn, who was one of the most brilliant composers of his time. He was brought up with music and creativity all around, and tried to make use of every moment to create something beautiful.
That Dvořák's
Symphony No. 9
is immensely popular goes without saying. Brahms, by the way, was always a supporter of Dvořák's. When the Symphony No. 9 was published in Berlin, it was Brahms who proofread it.
We will be performing Mendelssohn's
Violin Concerto
with the violinist Tatiana Samouil, who is an outstanding player and a good friend of mine. We first met many years ago when she was leader of the orchestra of the Théâtre Royal de la Monnaie in Brussels. She had been invited there by Antonio Pappano, whom I spent many years working alongside as Assistant Conductor. She subsequently appeared in the Montepulciano Arts Festival, where I am Artistic Director. So when we were planning this concert in the Hermitage I immediately thought of Tatiana, who is, after all, a native of St. Petersburg. I'm delighted to say she agreed at once. I hope the full splendour of this music will be revealed in the sumptuous interior of the palace theatre."