News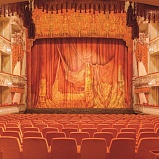 18.03.2020
The Mikhailovsky Theatre suspends the upcoming performances
Dear visitors,

Following the latest mandate from the government of St Petersburg dated from 18 March 2020, the Mikhailovsky Theatre with a heavy heart has to announce that we close the building to the public, and cancel all the performances starting from 19 March up until 30 April.
The document, signed by Governor Alexander Beglov, prohibits holding mass events with more than 50 participants in order to prevent spreading the virus. We will publish all the information about the ticket refund policy in the next few hours.
We thank you for your continued support of the Mikhailovsky Theatre, our repertoire and creative plans during these uncertain times. We wish you good health and patience.
Looking forward to welcoming you again soon,
Yours sincerely,
Mikhailovsky Theatre