News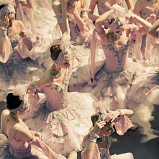 15.04.2022
Over the May holiday period
Everyone's favourite May holidays are drawing closer. This is traditionally a time for rest and leisure, for getting out and about, and for meeting with friends, family, and loved ones. St. Petersburg grows more beautiful with each passing spring day as the city prepares to welcome visitors from across the country. Whether you are a local, or visiting St. Petersburg for the May holidays, we invite you to join us at the Mikhailovsky Theatre. Tickets for our performances are on sale now!
On 1 May, we are giving matinee and evening performances of the romantic ballet Le Corsaire — a dream of enthralling adventures brought to life. Farukh Ruzimatov's classical choreography is stunning against the backdrop of Valery Levental's magnificent set design, which conjures up the atmosphere of the Mediterranean . The evening performance will feature Ivan Vasiliev, an artist of phenomenal energy and charisma.
On 4 and 5 May, our ballet programme continues with Romeo and Juliet. "The finest ballet score of the 20th century" (as the music of Sergey Prokofiev has come to be known) inspired Spanish choreographer Nacho Duato to create his own original production. The performance brings the bustling life of city squares into a single narrative with the profoundly intimate tale of the boy and girl who were to become for humankind the very symbol of all-consuming love. In our ballet repertoire, Romeo and Juliet is rivalled in popularity only by Aram Khachaturian's Spartacus, choreographed by Georgy Kovtun . The ballet is billed to be performed on 8 and 9 May. It is a rich historical tapestry filled with flaming passion, flashing blades, virtuoso leaps, and giddying lifts.
Our opera playbill for early May features three performances. On 2 May, we invite you to a performance of La traviata. One could listen endlessly to Guiseppe Verdi's most tender and sensuous work. "Love lifts us up," the great 19th century composer seems to be saying to us. Having seized the pennant of Italian opera from the grasp of his predecessor, Giacomo Puccini says rather that "Love leads us to our ruin," in his masterpiece Tosca, which plunges its audience into an emotional whirlwind. Tosca will be performed on 7 May. In Mozart. The Marriage of Figaro , to be performed on 10 May, passions are not so destructive: here it is the delicate balance of exquisite music and absorbing intrigue which attracts and enchants.