News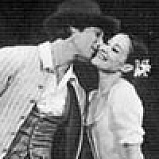 12.06.2008
Cyril Atanasoff 20.05-25.05.08
Cyril Atanasoff, a famous French dancer and repetiteur, conducts a series of ballet master classes at the Mikhailovsky Theatre.
Cyril Atanasoff is a French dancer of Bulgarian origin. He was born in Puteaux in 1941. In 1953 he entered the Paris Opera Ballet School. In 1957 he made his debut in Paris Opera, in 1958 he became a soloist, in 1964 — l'etoile. Among his teachers at different times were Roger Ritz, Serge Peretti, Victor Gzovsky, Yves Brio, Harald Lander and Gilbert Meier.
In Paris Opera Cyril Atanasoff danced the main parts almost in all the classical ballets such as "Swan Lake", "Giselle", "Coppelia", "Sylphide", "The Sleeping Beauty", "Don Quixote", "Raymonda", "Romeo and Juliet" (version of R.Nureyev), "La fille mal gardee", "Les noces" (by B. Nizhinska), "Agon", "Valse" (by George Balanchine), "Notre Dame de Paris", "Nana" and "Blue Angel" by Rolan Peti, "Ivan the Terrible" by Yury Grigorovich and many other ballets. The part of Quasimodo in the ballet "Notre Dame de Paris" by Rolan Peti (1965) was one of the legendary roles danced by Mr Atanasoff.
Among the most well known partners of Mr Atanasoff were Yvette Chauviré, Claude Bessy, Jacqueline Rayet, Claire Mott, Nanon Tibon, Noëlla Pontoi, Claude de Vulpian, Elisabeth Platel and Monique Loudieres.
Today Mr Atanasoff teaches classical dance in Paris National Superior Conservatory of Paris for Music and Dance.