News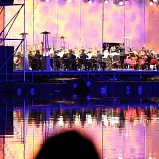 04.06.2018
A suite, a symphony and a rhapsody at night in Gatchina Park
On 7 July the Mikhailovsky Theatre Symphony Orchestra will take part in the 'Night of Music in Gatchina' International Festival.
For one night in July, by tradition, the White Lake in Gatchina Park is transformed into a stage and its banks into a huge picturesque auditorium. The Mikhailovsky Theatre Orchestra will again be appearing in this year's festival, conducted on this occasion by maestro Modestas Pitrenas. The Principal Guest Conductor of the Lithuanian National Opera and the Lithuanian National Symphony Orchestra has included some great works by celebrated composers in the programme. The audience will hear the suite from Tchaikovsky's
Swan Lake
, Mozart's 40th Symphony and George Gershwin's
Rhapsody in Blue
for piano and orchestra. The soloist in Gershwin's rhapsody will be Eliane Rodrigues. The Brazilian pianist, who has won numerous musical awards, is currently Head of the Piano Department at the Royal Conservatoire of Antwerp and Artistic Director of the Musica Romantica Festival in Switzerland.