Media about us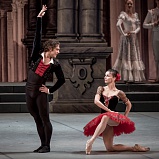 25.11.2014
St Petersburg company's New York debut has been a triumph
Eavesdrop at the ballet and you'll soon find that you arrived 20, 30, maybe 50 years too late. You should have seen Fonteyn/Plisetskaya/Chauvire and the company — any company — is actually Not What it Was. Which makes the steady rise of St Petersburg's Mikhailovsky Ballet all the more pleasurable. Last week saw the troupe's triumphant New York debut at Lincoln Center dancing Giselle, Flames of Paris, Don Quixote and a triple bill.
The 1833 theatre had been staging ballets since the 1930s but its wavering fortunes changed in 2007 when banana magnate Vladimir Kekhman began bankrolling the lavish restoration of the building and a series of handsome new productions. Huge injections of cash are not in themselves a guarantee of excellence but the real turning point came in 2009 when ballet master Mikhail Messerer was hired to raise standards and build a repertoire that would both stretch and flatter.
Class Concert by Asaf Messerer (uncle of) begins with junior barre exercises (supplied by well-drilled New York ballet students) and builds to a display of bravura steps that roll past as relentlessly as tanks on parade in a stirring show of strength. The 1960 work was sandwiched between the Petipa confection Cavalry Haltand the vapid clichés of Prelude by ex-Mikhailovsky director Nacho Duato.
Flames of Paris is a rip-snorting, Soviet-eye view of the French Revolution created in 1932 by Vasily Vainonen and revised last year by Mikhail Messerer. The story is vividly told and sumptuously staged. Vladimir Dmitriev's gorgeous sets and costumes create tableaux like the colour plates from a history primer.
The deft blend of old-school classicism and lusty character dancing shows off the company's impressive stylistic range. Mime is bold but never hammy and the climaxes are directed with enormous panache — the sans culottes stomped downstage as if they were coming to eat the stalls. There are elegant turns for Veronika Ignatyeva (a fluttering Cupid) and ex-Mariinsky thoroughbred Leonid Sarafanov (easily the company's purest technician) as well as a starring role for Ivan Vasiliev as the firebrand Philippe.
Vasiliev is not built on princely lines and his dancing has coarsened since leaving the Bolshoi in 2011 but he is still a terrific fit in crowd-pleasing roles such as this. Landings were fudged, trick steps over-rotated but a loyal (and very vocal) group of Russian expats cheered every revoltade as they watched him play in the air like a stunt kite.
His acting was cartoonishly perfunctory and he showed little interest in his partner (the pretty, sure-footed Angelina Vorontsova). Happily, bad manners and attention-seeking behaviour are pretty much a job description for Don Quixote's Basilio, Barcelona barber on the make.
Messerer's 2012 production is played and danced with all the zest missing from Carlos Acosta's Royal Ballet version. Minkus's tunes are taken at a dizzy lick by Pavel Bubelnikov and the Mikhailovsky orchestra and the many fine solos included a soulful skirt dance from Mariam Ugrekhelidze's gypsy queen.
Vasiliev snorted his way through his heavily-embellished variations but no amount of focus-pulling could tear our gaze from Natalia Osipova on fabulous form in her signature role, riding the music like a bird in a warm breeze and delivering miracles of timing and technique with an almost matter-of-fact brilliance that put her partner to shame.
Financial Times