Media about us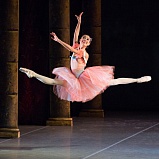 01.12.2014
A treasure trove of variations
This year, the Mikhailovsky Theatre Grand Prix was not awarded. The show competition for choreography students was first held in 2009. Many of the participants have subsequently become leading dancers in theatres throughout Russia. This season, instead of the usual contest, a special event was held: pupils from the Vaganova Ballet Academy took to the stage to perform George Balanchine's Raymonda Variations, in honour of the 110th anniversary of the birth of the great master, who graduated from the Petrograd ballet school in 1921.
"Ballet is a woman." Who could argue with George Balanchine's assertion? Like Raymonda itself, Raymonda Variations is the realm of female dancers, although the male parts are complex too. Nikolai Tsiskaridze, who was elected as rector of the Vaganova Academy on 29 November, said a few words about Raymonda Variations in anticipation of his pupils' performance. He set the bar high for his final year students: to master Balanchine's choreography, which was new to them, and which, he emphasized, had never been staged on this continent — neither in Europe, nor in Russia — until now.
The force behind the production was the international charitable fund Open World, established in 2011 by Vaganova Academy alumnus Ekaterina Chtchelkanova, who was a soloist for many years at the American Ballet Theatre. The ballet master and director was Darla Hoover, who was taught in her time by the famous Russian ballerina Alexandra Danilova. Ms. Hoover danced the main role in Balanchine's Raymonda Variations in her final performance. The American public first saw this ballet in 1961, while Soviet audiences were treated to it one year later when Balanchine's company toured the USSR.
Raymonda Variations is a treasure trove of delights. It includes enchanting waltzes for the corps-de-ballet, and a lyrical duet in which Nika Tsvikhtaria and Evgeny Kuznetsov gave a demonstration of true academic dance. In addition, the seven female variations, showcasing different techniques, moods, and virtuosity are like scattered gems, shimmering enigmatically in the constantly shifting dance patterns.
Renata Shakirova stood out among the dancers for her brilliant technique and the elegant sophistication of her movements. Anastasia Lukina invested her variation with a tremulous reverence.
The public was delighted: the students of George Balanchine's alma mater will continue to keep his Variations alive on the St. Petersburg stage.
Igor Stupnikov, www.spbvedomosti.ru